Costa Rica is the most visited country in Central America. With this tourism comes good and bad. Unfortunately the bad seemed to taint our impression of Costa Rica. It is not to say that Costa Rica is not a beautiful country, it is. But many social problems affected our trip here and likely it will affect most visitors.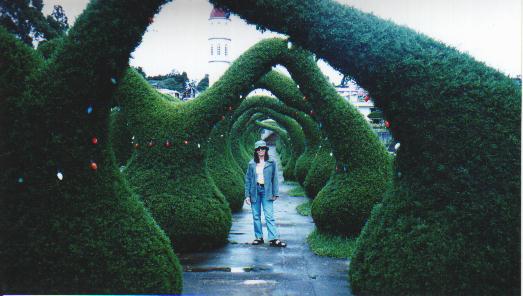 Of course our visit was 4 months long and likely longer than most people's. If the resort vacation is your pleasure, than Costa Rica is comparable to most of the Caribbean in this respect. In that environment you are sheltered from crime and the dirty dangerous city. If travelling around the country is your choice for travelling, we have a few tips. Costa Rica is not as safe as most of the travel books claim. After a few personal experiences and much conversation with locals, there has been a severe increase in crime in Costa Rica in recent years. Particularly against tourists. Theft is extremely common. In fact when we attended a Spanish school for a month, many of the students travelling had stories of theft. This unfortunately is common on many of the local bus routes where most tourists travel. Don't travel with large sums of money or valuables. Also don't think that your are safe in public areas during the day. Robberies happen in busy, wealthy areas, in the middle of the day. Always surrender your belongings without hesitation. These thieves will not hesitate to hurt or kill you if you are not co-operative.

The Costa Rican people are generally c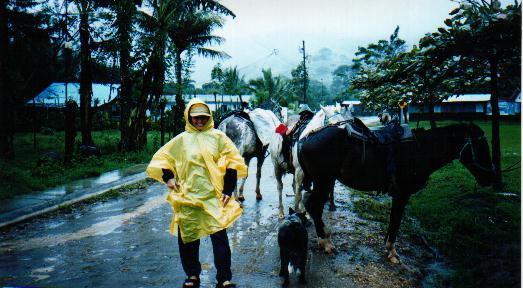 ourteous, but do not expect anyone to go out of their way to help in many situations. They are often scared of getting involved or just can't be bothered, not uncommon in big cities.
The worst kind of thieves in Costa Rica seem to be the ones you can't avoid....local taxi drivers. With the exception of two cab rides in four months we were consistently ripped off. In order to avoid this, before going to a destination ask a local the approximate amount of the fare. The cab should always use his meter (a "Maria" as they call it). If he doesn't have one, it is an illegally run cab, and you are going to pay too much. Often they will want to charge a flat rate if you go a few km's out of the city limits. If so always ask the price before you get in the cab. The true cab fares are not expensive compared to taxis in North America, but with this dishonest system, it could quickly eat away at your travel budget. A ten minute cab ride should cost about three dollars.

One last piece of advice for women travelers. Expect the very worst when it comes to attention from Tico men. I've travelled in many countries where this is common,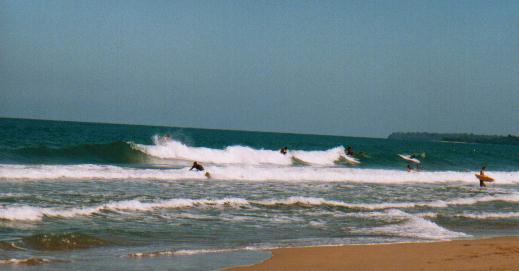 but I have never seen it to such a degree. They are not only rude and obnoxious, but also frightening in many respects. This type of attention seems to be especially directed at tourists and can happen in any environment, on the street accompanied by male friends, at the beach or sitting in a car. Don't bother to translate what they are saying because you won't want to know. It has given me an impression of this country and it's male population that won't be quickly forgotton. My advice.....ignore them, never look at them. Just pretend you can't hear them. They generally go away, unfortunately not without leaving you insulted and in need of a bath.

If you can handle these problems, Costa Rica also offers many good things the traveller. We'd like to tell you some of our favorites:
Restaurants
The small Costan Rican cafes are called "Sodas" and they generally serve a standard dish called "casado". It consists of a choice of meat accompanied by rice, beans, vegetables, and fried plantain and is almost always good value. We didn't manage to find any restaurants in San Jose or elsewhere which were particularly great. There is a couple decent ones in Escazu and a seafood place called "Estrella De Los Mariscos" in Sabana Sur which is pretty good.
Places to Visit

Tabacon Resort in La Fortuna
This was our favorite place in Costa Rica. It is a hot springs resort at the base of the active volcanoe Arenal near the town of Fortuna. The admission is expensive at $16 but it is worth it. If you are lucky enough to have a clear sky you will be able to see the volcano erupting! But we were there three times and it rained every time. Keep in mind that the volcano is only a bonus, the real treat is swimming in the naturally hot river and drinking cold cheap beer.
Puerto Viejo
This is a groovy little town on the Caribbean coast whose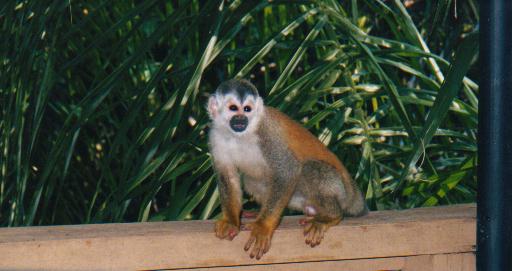 population consists of dope smoking hippie surfers, lots of stray dogs wandering around, and even a few locals who run the sodas. The locals are mainly descended from Jamaicans and speak some sort of Spanglish which is pretty much unintelligible. Just nod and "cervaza porfavorplease". The beach called Cocles Beach is beautiful and great for surfing. Our favorite place there was a hotel/restaurant called Cafe Tico which is run by a nice Dutch couple. The coffee at their place kicks ass.
Jaco
This is the weekend retreat place for all the Ticos from San Jose. Heavily populated on the weekends then deserted on Monday. The beach is pretty good and there is lots of bars and restaurants. Wishbone Pizza on the main strip is good for lunch or dinner and for breakfast you have to go to Sunrise Cafe, which is a breakfast-only place. There is a hotel on the beach called Copacabana which is lovely and reasonably priced at $49/night.
Monteverde Rain Forest
We spent two weeks here going to Spanish school and quite enjoyed it. The Spanish school called C.P.I was absolutely superb and we can't recommend it enough. The staff are lovely people and the course is great. Can't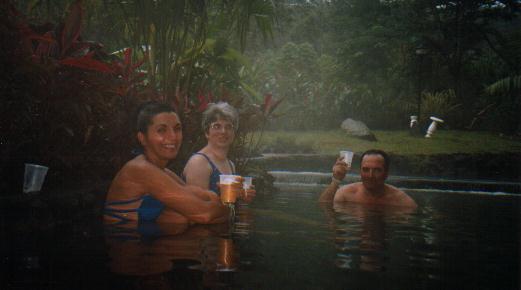 recommend the weather much though, it rains pretty much every day and is very cool. You won't get a sun tan here but you can do some nice hiking as it is in the middle of a rain forest. Apparently there is lots of wildlife around though all we saw was a dead frog squashed on the road, but it was quite large. Maybe we spent too much time hitting the books. There is a nice little soda with good coffee in the town centre called Morphos and another called Chunches. The hostels in town are very cheap, about $10 per night. The bus ride to Monteverde is terrifying so we took a horseback ride from La Fortuna instead....which was equally terrifying on the ass. The scenery was breathtaking so this was definitely the best way to get there.
Manuel Antonio Forest Reserve (Quepos)
Nice place but relatively expensive. Lots of monkeys and iguanas around and the beaches are excellent. We stayed at a place called Costa Verde which was a very nice place.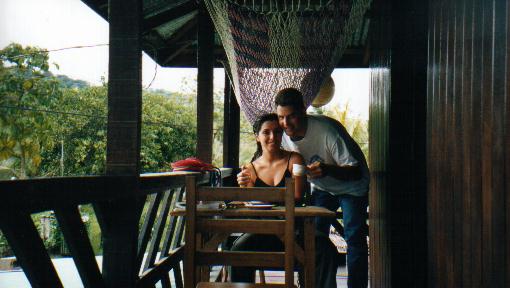 At 5:00 every night this troupe of wild monkeys shows up and you can feed them bananas. Also, there is these massive iguanas all over the place including one that comes down to the pool for a bath every once in a while. The only thing that spoiled this place for us was that a waiter offered us the special house coffee which came with liquor in it and then proceeded to charge us $20 each for them! Rotton scumbag. When we checked out we complained and got most of the money back.
Volcanos
There are volcanos all over the country. The three most popular are Arenal, Poas, and Irazu. All three are cloudy most of the time so you have to get quite lucky to actually see anything. If you are on a tight budget give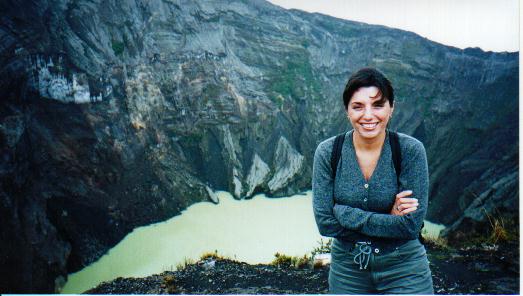 them a miss. If you really want to try and see one of them, go for Arenal because even if it is cloudy you can still enjoy the hot springs.