We have arrived in Barbados safe and sound. It is beautiful hear but very hot. We have finally managed to settle in at our apartment.

So far we have found it very expensive, meals are on average $15 - $20 US per person for dinner. The only place where it is cheaper is at KFC!! But the beaches are beautiful, the beer is good and the seaside bars are plentiful. Kris and I have actually been amazed at the quantity of restaurants here. There is a new place to go every night. Our weekends have mostly been going for drives, and going to the beach. Quite a notch down from hiking and climbing throughout the rainforests of Suriname. Hopefully in the coming weekends we will be able to also do some scuba diving.

Our friend Karen (who is also working on this project) is arriving from Guataloupe this weekend for a while, so we are looking forward to catching up with her.
Unfortunately I won't be able to work here (strict immigation), so I foresee boredom setting in soon. This is my plea to all of our amigos....come visit me!!! We have a nice couch that can sleep one very comfortably.
That's all for now....more soon.
The rest of the weekend was like being in heaven, talking about the wedding, staring at my beautiful engagement ring and making calls to the moms and pops.
The island was the perfect setting, beautiful beaches, cliffs and waterfalls. An unforgettable weekend!!
The have decided to have the wedding in fall of next year, likely the beginning of September. But we will keep you posted on details. More news to follow…AHHH... isn't life grand!!!
Ana
As this project nears an end we prepare for new adventures in Santo Domingo, Dominican Republic. Kris' new project has finally been set and we are moving there for at least 6 months in the beginning of September. This summer will be a very busy one. I leave for Brantford this coming Saturday and Kris follows a few weeks later. Wedding planning and visiting friends and family will definitely be the focal point of this trip.
We also have a wedding in Denmark on July 29 where Kris will be best man for his Danish friend Martin. I've never been to Denmark so I am excited to go and also to meet Martin and his soon to be bride Marianne. After a week in Denmark we are also going to England to visit a few of Kris' friends and have a reunion with a few of the boys from Bahamas. Then back to Canada to visit Kris' family in Saskatoon. As they say no rest for the wicked!!!

We hope that we will still be able provide some updates on the website at some point this summer, but with this crazy schedule we can't make any promises. We do promise to continue documenting the summer adventures in September when we have settled in Santo Domingo.
We are hoping to have many of you visit us in Santo Domingo, so plan your holiday's and let us know. For now, have a great summer and take care....til September.
Ana
September 26, 2000

After a long summer break we are finally back online and back to updating Kris and Ana's Great Adventures. This summer was a great opportunity to catch up with good friends and family. We spent some time in Europe visiting our friends Marianne and Martin and attended their wedding. We also made a pit stop in Portugal to sort my EU citizenship (which I now have.....YEAHHH). And of course we couldn't leave Europe without a trip to Kris' old stomping grounds in London. We had a short but sweet visit with Toddy and John, and of course the Bahamas boys, James and Steve.
Our next stop was a visit with Kris' family in Saskatoon. It was great to be able to see the folks again and start making some plans for the Wedding Bash in the WEST! It was also great to finally meet a few new additions to the crew... Kris' new cousin Janessa, Darren's little boy Aidan and also Curtis and Marty's girlfriends, Carrie and Jenn. It was also my first visit to the "Lake". Kris' grandparents have left a wonderful legacy for many generations to come. I look forward to someday bringing my kids to this wonderful place.

We returned to Ontario mid-August and spent lots of quality time with mom and pop Borges. Kris was fed hoardes of good old Portuguese cuisine. We also spent some time in Kingston with Mark and Linda and in Font Hill with Michael and Anna. A big congratulations are in order to Michael and Anna on their new cookbook!!! Our last visit was to our friends Tom and Linda from Detroit. We hope to see them again for a visit in Dominican Republic.

It was also a busy time getting ready for the big event next September. The Olson/Borges wedding will be held on September 22, 2001 in Brantford, Ontario, Canada. Book your calendars and prepare your livers, it's going to be a WILD one!!!
We are now in Santo Domingo, Dominican Republic. After a week of adjusting we are back on track. Kris' project is going well and my job search is underway. The interviews have been steady but nothing yet.
We have managed to find a place to live. It is a two bedroom apartment in the heart of the city. It is close to a park and is fully equipped with a swimming pool and generator (for the daily electricity outages). So the extra bedroom is available for vacation bookings anytime!!
The weather has been a little weird for this time of the year. Some tropical storms in the area have caused much rain. But it is a nice break from the hot, humid sun.
This weekend we plan to take our first trip out of the city to a beach about an hour away. We will report back next week on how it went.
Well, we are glad to be back and we look forward to hearing from you all!
Ana
After six weeks in Santo Domingo I would now say that we have completely settled in. Our apartment is looking great and feels very much like home. And the best part is that ANA FOUND A JOB!!! Yep, that's right, her carefree days of sleeping in and killing time are over. She is the production manager for a local web design company. She has a department of ten web designers and has been enjoying the job very much. The first week was a little tough as she has been away from the office environment for a while. As well, her co-workers speak only Spanish so she has been learning plenty of new words!
The most recent news to report is that we have already had our first visitor. My friend Earl made a surprise appearance on Friday afternoon then left Saturday. He had to make an emergency "US visa" run out of the country so he came to Santo Domingo. But we will be seeing him again very soon as he plans to return next weekend with his girlfriend for a two week stay which we are really looking forward to.
The area where we are living is superb. Within three blocks we have a bakery, gym, movie cinema, park, grocery store, pharmacy, movie rentals, shopping mall, Jaguar dealership (just in case...), and at least a dozen restaurants.
So things are going well, but hectic. We have finally booked our flights for Christmas. We arrive in Toronto on Dec. 20 and depart for the New Years bash in Saskatoon on Dec. 29. We then return to Santo Domingo on Jan. 6. It will be nice to be with family and friends this Christmas. They can fill the streets with lights and trees here, but without cold, snow and family, it just doesn't seem like Christmas!!
More soon....
Ana and Kris
Just a little more than two weeks until we leave for Canada!
Things have been quiet of late. We have both been working and getting home after 7:00 most nights so after we have had supper and gone to the gym there isn't much time left. We have been spending most weekends at home relaxing, catching up on the internet, and basically just enjoying the comforts of having a permanent apartment!
We are having a Christmas pool party here next weekend which should be a good laugh. Most of Ana's staff is coming as well as some of the people from Shell. The landlord is "sharing" the party with us by inviting the rest of the tenants here so it should be a good crowd.
The weather has been beautiful up until a few days ago when it got rainy and overcast. Don't mind the rain for a few days but hopefully the sun will shine the next couple weekends so we can work on our tans before returning to Canada for Christmas!
That's it for now, take care!
Kris
So much to tell and so little time to write it seems. As Kris mentioned we went to Canada for Christmas (which already seems like a lifetime ago). We had a fantastic time, but as always, too short.
We spent Christmas with my parents and then New Years with Kris' family in Saskatoon. We did all the Canadian winter activities like ice-fishing, tobogganing and snowmobiling. It was so nice to see everyone again. We have some photos of the holidays on our Saskatoon page.
Since returning to Santo Domingo I have quit my job and we've had Mark and Linda (Kris' aunt and uncle for a visit). My job was as the production manager at an internet company. I quickly found out that the Dominican way of doing business is a lot different from what I am used to. It was a very good learning experience and I made many new friends, but it simply was not worth the money or the hours spent. I have returned to making websites and also translating at home. It seems to be going well and I'm much happier. As well, it was nice to be home and spend some time with Mark and Linda during their visit. We spent many nights on our balcony and a few afternoons by the pool sipping cervezas. It was a great visit.

A few weeks ago Kris and I went to the north coast to Puerto Plata for the weekend. It was fun, especially because we got to spend some time with my friend Julie from Toronto. She has been living there for the past 2 years. She gave us a great tour of the Puerto Plata area and we also had a great seafood dinner at a local restaurant owned by a Canadian couple.

On our way back to Santo Domingo we stopped at Caberete, which is a small town about 40 km east of Puerto Plata. We think we have discovered our favorite place on the island. After much searching for a place with some character and no all-inclusive resorts we finally found it. There is not a resort in sight and it is said to be one of the best windsurfing locations in the world. This little town is full of small hotels and restaurants and has one of the nicest beaches we've seen on the island. We only spend the afternoon there, but our next trip will definitely be to Caberete!!
We are going to be quite busy with guests in the coming months...on February 17 both my friend Christina from Brantford and our friends Tom and Linda arrive. Tom and Linda are staying at a resort a couple hours from here but we still hope to spend some time with them. A week later our friends Mike and Nola arrive from Chicago. Three weeks after that our Danish friends Martin and Marianne arrive for 2 weeks. That's a full schedule!
The timing for all of our visitors has been perfect as Kris will begin doing some traveling with his job soon. We aren't sure of where but we are both getting a bit of the traveling itch, so it will be nice to see some new spots. Don't get us wrong, the past few months of living a somewhat normal lifestyle has been great! Unpacking our suitcases for more than 3 weeks has been a real pleasure!!
Thanks for your patience in waiting for an update to our site. Now that I'm working from home, I hope to dedicate some more time to it. Hope to hear from you all soon.
Ana
This is a start of a new year for me (Kris) as I turned 29 years old yesterday! We had a very relaxing day, and finished it off with dinner at a nice steak restaurant and a marvelous cigar. We have been very bad recently at keeping our site updated so I thought today is a fine day to write another update.
Since last time, we have had visits from our friends Tom and Linda from Detroit, Mike and Nola from Chicago, and Martin and Marianne from Denmark. As well, Ana has found herself a new job....at Shell! In fact we are now working together on the same project and having a great time of it! She has been involved mostly in the training and documentation side and has been doing a superb job. We will be finishing the work in Dominican Republic within the next couple weeks then the plan is to move on to doing the rollout of our system to the other 17 countries in the region. We don't exactly know what will happen yet, though we will likely be keeping a central base then just traveling out to the other countries periodically. That will be nice for us as we don't have to pack up and change homes every month, we were not looking forward to that.
Of course, the wedding is fast approaching. Ana is returning to Canada at the end of May for two weeks for her bridal shower and also to send out invitations and sort out the remaining tasks on our "Wedding To-Do List". We will update the wedding page today with the latest so check that one out.
Ana and I recently took a long weekend trip to Barbados and Puerto Rico. Part of the reason was to get a repair done to Ana's engagement ring, which I purchased in Barbados last year. We had a very nice time and checked out some of our old favourite hangouts such as the almighty Mojos drinking hole where I imbibed in the frosty delight of many delicious Banks beers. On the way back from Barbados we spent a full day in San Juan, Puerto Rico. Our friend Tico picked us from the airport and played the perfect host. We had a great tour of old San Juan and spent a few hours there. We also hit the malls (Plaza de las America) and did some damage to the credit card. The majority of things were cheaper than in Santo Domingo so we stocked up on a lot of stuff. We both really liked the city and would love to spend more time there exploring the country side.
I suppose that is all the news for now. I'm also going to update the Dominican Republic page today with details of the new places we have visited so have a look at that one.
Oh yes, today is Mother's Day, have a wonderful one Mom!!!
Kris
We have just spent several minutes trying to figure out why all our journal entries since May 13 are gone. It turn out that we haven't updated this page since then! How embarrassing...
Our wedding has come and gone and here we are back at work and back in the Dominican Republic. It is unbelievable how that long year of waiting, planning, and stressing finally paid off with a beautiful wedding day surrounded by all of our wonderful family and friends. Have a look at the wedding page to see some pictures.
So what's new? Since we returned back here we have been keeping a pretty low profile and doing lots of relaxing. This past weekend was a long one so we made a trip up to the northern coastal town of Las Terrenas and met up with our Canadian friends Mark, Terri, and Carolyn Haugen. Besides being eaten alive by mosquitoes we had a great time! We found a superb little Vietnamese restaurant in the town which we visited a couple times. On the Sunday we took a horseback ride to a waterfall called Salto de Limon. The horses were quite good and the ride was very scenic. By the time we returned three hours later we were filthy, tired, and extremely hungry so we devoured a delicious Domincan lunch of rice, beans, and chicken.
This coming weekend Ana's friend Julie, who lives in Puerto Plata, is planning to visit us here in Santo Domingo. We haven't seen her for a while so that will be nice.
Not much else to report. The Presidentes here are still icy cold!
Kris
Welcome to the new year! After more than three weeks of glorious vacation, Ana and I are leaving for Holland today to begin work on Monday. We are both extremely excited about it and ready for what will surely be an interesting year.
For our Christmas holidays we spent two superb weeks in the Azores! We were joined by Toddy Van Hees for the first ten days then by Ana's parents for the second week. We stayed with Ana's aunt who is also named Ana and lives in a town called Santa Cruz which is in the Lagoa area of the island of San Miguel. Ana, Toddy and I also traveled to the other islands of Faial and Pico and spent a few days exploring. The weather was very rainy for the first part of the trip, but the temperature never fell below 15 C so it was actually very pleasant.
Some of the highlights include seeing the natural ocean pools in Pico and Lagoa, a scary plane ride from Ponta Delgado to Horto, the harbour in Horto, the view from Scrimshaw's house in Faial, the volcano blasted landscape on the west of Faial, the Furnas hot springs in San Miguel, a tea factory, the delicious red wine from Pico, fresh local bread and cheese with Tia Ana every morning, every meal we ate at Tia Ana's house, picking fresh bananas and oranges in the backyard, seeing a dog riding on top of a trotting horse, New Year's Eve on the Avenida, and the beautiful view from Lagua do Fogo!
I also had the chance to meet the rest of Ana's family who live in the Azores and they were all exceptionally nice people! In fact, all the people living there were very friendly and helpful, making it a great place to visit!
After returning to Brantford from the Azores, we decided to take a trip to see Marty and Jen in Ottawa. So we rented a PT Cruiser (groovy little car) and made the trip. It was so nice to see where they were living and how things were going. They are both doing very well in school and enjoying Carleton University. They gave us a great tour of downtown Ottawa including the parliament buildings which were spectacular.
On the way back from Ottawa we stopped in at Mark & Linda's in Kingston where they treated us to a delicious lunch. We had a good, but very short visit, before we were on our way to Toronto. We stayed with Ana's brother Mark in Toronto and that night we met up with Carmen, Diane, and Lena and had a nice dinner out.
To finish off the vacation, we had a couple days in Brantford to sort things out and get all our things packed.
So now it is on to a brand new year and a brand new adventure!! We really hope to see lots of you as visitors so don't be shy!
Kris
Greetings to all from Den Haag!
We are settled into our apartment which is a two bedroom unit with a beautiful view overlooking Scheveningen beach. In fact, the view is quite similar to the view from our apartment in Puerto Rico. The only difference being that the temperature is about 20 degrees lower...
It is great to be living in Europe. We took a trip to Paris last weekend, which was a very easy 3.5 hour train ride from here. Saw a few of the tourist spots such as Arc du Triumph, Notre Dame, La Louvre and the Eiffel Tower. We also did some shopping, much to Ana's delight.
The weekend before that we met our Danish friends Martin, Marianne, and their little boy Benjamin in a Dutch town called Apeldorn. They were visiting their friends Roy and Anka, who are absolutely wonderful people. They invited us to stay with them so we all had a very nice weekend together. I was surprised to find that another Danish friend named Lars was visiting as well and I hadn't seen him for a long time. Roy and Anka have a beautiful home and treated us just like family so we really enjoyed the weekend. Little Benjamin is growing fast and already trying to steal the old man's beer!
More news soon,
Kris
It's been a while since I've contributed to the journal so I suppose this better be a good one. As Kris has said we are well settled into The Hague. We are really enjoying our apartment, even though we seem to spend very little time here. One of our goals for this year is to see Europe and we have already accomplished a little of that goal. Our friend Nancy from work has got us hooked onto this "last minute" area on the KLM Airlines site called "Click and Go". So every Thursday at 1:00 pm they publish cheap flights for going away that coming weekend. So at promptly 1:01 pm Kris and I logged on and Athens, Greece was at the top of the list. To be quite honest, we had never really thought about going to Greece. There are many other spots on out list, but it was cheap and available....so off to Athens we went.
We really didn't know much about Greece, but after a little surfing on the web we found there were plenty of things to see in Athens, such as historic monuments and the old city. So we arrived late on Friday night, took a bus to the city centre then got ripped off by a taxi driver before reaching the hotel and checking in for a good night sleep.
The morning brought sun and warm weather, which we have been craving since our departure from the Caribbean. So we spent the morning climbing Acropolis, which was beautiful, but as expected full of tourists. We also went to the Temple of Zeus and saw from a distance Attica. By that point we had reach our threshold of touristy spots so we headed to Plaka (the Old Town) for lunch. We found a cozy spot and proceeded to get our suntan/burns back as we ate. We spent the rest of the afternoon moving from outdoor cafe to outdoor cafe contemplating how to spend the rest of the weekend.
We both agreed that we would enjoy seeing more than just the city, so we thought we would inquire about a boat tour or country tour. Much to our delight there was a boat tour the following day which stopped at 3 of the Greek islands. So we spent our Sunday in Poros, Hydra and Aegina. They were all quite beautiful, although Hydra was the nicest. On board we met a couple from Lisbon, Portugal and I had some nice conversations with them, as Kris tried to fill in the blanks with his broken Portuguese (which is improving dramatically, I must say). Soon the cruise was over and we came to the quick realization that work was only hours away. But we loved it and now are considering doing this "Click and Go" thing more often. The weeks are flying by and we are enjoying every moment. Even the work is challenging and rewarding....10 hour days don't even bother us anymore.
So I guess that is all the news for now. We'll update you on our future travels to Atyrau, Kazakhstan in a week and our Easter trip to the Borges Residence and the east coast of Canada.
Much love,
Ana
Hello everyone,
Can you believe it is almost Easter??? Things here in The Hague have been great. We have been busy traveling and working and are looking forward to our upcoming trip to Canada.
In the last 2 weekends we have been to Brussels, Belgium and Atyrau, Kazakhstan. Both places on the opposite ends of the spectrum.
We hadn't planned to go to Brussels, but a we thought why not. Brussels is a 2 hour trip on train, from where we live, so it was a easy place to get to. Well.... we loved it!! It is a very typical European city with lots of little cobblestone streets and restaurants and cafes for miles and miles. They also have a very impressive square with gold covered buildings and a most impressive city hall. We enjoyed a great evening out with our friends James and Lisa and kids Cassandra and Ainsley. We especially liked a great jazz bar we found which featured a live band and a good crowd. Chocolate, waffles and beer were the staples of the weekend. We plan to return to Belgium soon to explore Bruges.
Well now Kazakhstan....it was quite an experience. We went there on a business trip as our company's other office is located there. From there they support the rigs that are drilling for oil in the Caspian Sea. So we left Friday and spent most of the day traveling to Atyrau (where the main office is). Saturday morning we had to travel to another town called Bautino where the materials base is. So another 1 hour plane ride and 2 hour drive got us to Bautino. The drive was extremely dull as the place looks like a lunar landscape - no trees and everything covered in dust. Apparently nothing grows because of the salt content in the earth but we suspect that all the nuclear testing the Russians did in Kazakhstan doesn't help either.
The hotel room we had was fantastic...with a kitchen and VCR and even movies. It was a busy trip but ended up being a better a place then we had anticipated.
So that is the latest. We are now gearing up for a hard work week and then our Easter trip to Canada. The plan is to spend the first 4 days with my mom and dad and then leave for Moncton for an east coast Canada holiday.
I hope everyone has a great Easter....and we'll write more soon.
Ana
It is a windy and rainy Sunday in Scheveningen. Our friend Carmen Demelo arrived last week to work on our project! So we had a big movie night here at our place last night and Carmen stayed over. We just finished a big breakfast and are planning on spending the day doing lots of nothing.
We had a trip back to Canada during easter which was great. We spent half the time in Brantford and the other half on a vacation through the east coast of Canada where we finally got to see the provinces of New Brunswick, Prince Edward Island, and Nova Scotia. We flew first to Moncton then picked up a rental car and started driving. Since we were there before the beginning of the tourist season, things were very quiet, including the bed and breakfasts we stayed at - often we were the only ones there.
Since returning, we have been quite busy at work, but have also had some weekends away. We caught up with Steve, Abby, Mike, and Toddy on a recent trip to Cambridge in England. It was a very tranquilo weekend and a great chance to catch up with some good friends we haven't seen for a while. I also had the pleasure of a ride in Stevie's sports car!
Last weekend we did a KLM "click and go" to Bergen, Norway! The weather was not superb, but we enjoyed it nonetheless. I bought myself a brand new Norwegian sweater to replace the one which seems to have found a new home with my brother...
Ana and I are looking forward to a very busy month. Grandma, Grandpa, and Lynn arrive next Sunday, which also happens to be my 30th birthday! They will be staying with us here until May 23rd when they depart for Sweden to visit our cousins Birgit and Stig. On May 24th, Curtis and Carrie arrive and will be here with us for a week. We are taking them on a "surprise" weekend trip....destination unknown to them, but which is sure to be a blast! Unfortunately Ana and I have to work during the week but I'm sure our visitors will enjoy exploring the Netherlands on their own while we are slaving away!
Of course, the next big event coming up will be the Olson Family Reunion this summer! We are counting the days...
Take care,
Kris
Another Sunday night...we are absolutely exhausted after a very busy few weeks. Our visitors have now come and gone, but left us with some wonderful memories and stories! Grandma and Grandpa Gustafson were here with Lynn visiting for a week and we all went away for a weekend to Paris which was very nice. The rest of the time they spent exploring various locations around the Netherlands and the Hague. They walked some pretty serious kilometers while they were here and seemed to enjoy the exercise.
Curt and Carrie arrived just after the first guests left so we off again on a weekend trip - this time to Barcelona, Spain. We all got a good dose of sunshine and Spanish culture including some nice seafood meals and a long, long session at a great tapas bar which we nearly cleared out. Toddy joined us for that one as well so we had a nice chance to catch up.
I'm afraid the eyes are getting droopy...so this will have to be a short one for now!
Kris
Happy Canada Day to all you Canucks out there!!!
Ana and I are on the last day of our long weekend trip in Budapest, Hungary on the way back from Kazakhstan. Ana was working there for almost a month, and me almost three weeks so we are happy to have a few days off before returning to the Hague.
The time in Kazakhstan was actually quite pleasant. We had a few nice meals out in the town but most of the time we hung around the office and hotel complex. One Sunday we did take off a half day to visit two of the museums in town (Atyrau) which were very interesting. We also went for some nice walks along the banks of the Ural river which runs through the city to the Caspian Sea. One of the key things the Caspian Sea is known for is the sturgeon which produce the world's best caviar. I actually managed to find the fish store so I picked up a few tins of it before we left. I believe we'll be having a little caviar party tonight in The Hague with James and Carmen so we'll finally get a chance to sample some of the stuff. To purchase it outside of the region is extremely expensive (up to $400/can) so I suspect we will not make caviar eating a habit!
Back to the present. Budapest has been a lovely city to visit. We arrived on Friday afternoon, relaxed for a couple hours, then went out to the opera! The Danube Symphony Orchestra was playing with four opera singers, who rotated through various snippets of famous operas and it was absolutely splendid! The voices of those singers have to be heard live to be believed.
We spend much of the rest of the time exploring the city on foot. There are hundreds of beautiful buildings and interesting monuments to see. The Danube river flows through the city and on Sunday afternoon we went to a boat cafe on the river to watch the Germany/Brazil final of the World Cup. We were happy to see Brazil win, but the only problem was that we had drawn Germany as one of our teams at the sweepstakes we had at the office so a German win would have pocketed us 150 euros!! Oh well.
Our trip to Canada is approaching very fast, in fact we only have around three weeks left of work before we leave! We'll be happy to catch up with all of you again!
See you soon,
Kris
It is our last 15 minutes in the office and I have time to do a quick update on our very envious situation. We have decided not to renew our contracts and instead go on a round the world backpacking trip!! To start things off right, we are leaving for Portugal early tomorrow morning to spend four days vacationing then we will be returning to The Hague to catch our flight back to Toronto then onwards to the big Olson reunion. But, as usual, we both have that happy/sad feeling of leaving our friends and familiar surroundings and moving on to something new. We can say that we took advantage of our short time in Europe and explored a great number of interesting places and met some special people.
Time up! Many more updates to follow as we begin our big journey.....
Kris
It is the end of the Canadian summer and the temperature outside today is 32 degrees celsius, yow!! We are coming to the end of the longest vacation I have had in Canada for many years. We spent three weeks in Saskatoon with the Olson crew and are now at the end of our second week here in Brantford. Though we have kept ourselves quite busy, it has not been at the usual chaotic pace of our trips home so we have had a very relaxing and enjoyable time. I updated the page for the Olson Family Reunion with a few pictures as well as updating the Ontario page with a few new pics, have a look at those.
And how about the Big Trip? Here's the itinerary we'll be starting with, though there's likely to be changes as we go along:
Sept 19 : Depart Toronto for London, England
Sept 22 : Depart London for Capetown, South Africa
Oct 23 : Depart Johannesburg for Perth, Australia
Nov 1 : Depart Perth for Sydney
Nov 30 : Depart Sydney for Auckland, New Zealand
Jan 1 : Depart Auckland for Santiago, Chile
April 1 : Depart Rio de Janeiro, Brazil for London, England
April 3 : Depart London for Toronto, Canada
We are obviously giddy with excitement to be embarking on such a long trip to such diverse locations! We are lucky enough to have friends in many of these places so we'll be having some great visits with long lost buddies!
There will be plenty of journal updates in the coming months so stay tuned..
Kris
Between Sept 2002 and April 2003, we did a round the world backpacking trip, focusing mainly on the best wine making countries in the Southern Hemisphere. This is the route we took: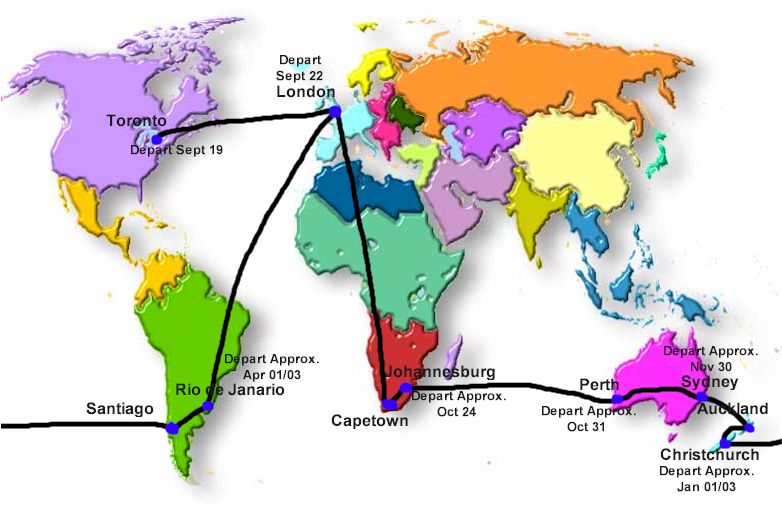 Well we are only hours away from embarking on the trip of a lifetime. We have talked for years about the BIG trip, but finally the time is right and we have been lucky to have jobs which allow us to save for such an adventure. This didn't start off as being the "Ultimate Wine Tasting Tour" but a few nights ago we realized that we are going to some of the best wine producing countries in the world, so why not! Now if I can only keep Kris into the wine and out of the beer. Who knows, he may even add a wine review to the website.
We plan on seeing many friends on the way so we are really looking forward to catching up, and also keeping the folk at home updated on our travels. So off we go......more from London.
Ana
Sept 26, 2002 - Capetown, South Africa - Click here to view our South Africa Page
We are exactly one week into our trip and everything has been GREAT!
Upon arriving in London, we went immediately to pick up our round the world tickets at the travel agency. That done, we went to meet Toddy and he gave us the keys to his place so we could have a short nap during the afternoon. It was a beautiful three hours nap, at least enough to power us up for the night. We went to a local pub with Toddy and his flatmates TJ and Simon and Simon's girlfriend Angela. We had a nice meal and a chat and drank about four pints of Stella then went back to the ranch. The next morning I woke up with a stinking, filthy headache the size of a small continent. It was the kind of headache that wakes you up at seven in the morning then hurts so bad you can't get back to sleep. Aaaaaggggh!! Needless to say that ruined our plans to get going early and meet our friend John Murray out at Windsor. I should know that I just can't take the beers like I used to.
That evening we joined Toddy and his flatmates at a backyard barbeque which was being held by one of the guys on their cricket team. It was a good party, but got even better when one of the boys got out the snuff and started handing it around. In the true spirit of adventure, both Ana and I lined up a bit on the back of our finger and snorted it back. Yowwwwww...what a wasabi blast!!! If we were getting drowsy at that point in the party, we were certainly awake after that stuff! The party ended up with us spending about an hour and a half in Catford trying to find a bus/taxi/mini-cab - anything to get back to the Docklands. We finally got one to stop, but he told us we couldn't all fit into a single cab, so Toddy volunteered to go back to the party, that's the spirit!
Next day we did actually make it up early and were off to meet up with Heinrich and his wife Davina for Sunday lunch. They took us out to a lovely country pub where we stuffed ourselves with traditional English grub then took the scenic route back to their place for a cup of tea. Before long we were at the airport and on the plane looking forward to the twelve hour journey to Capetown, and the last few hours of Sept 22, 2002 - the first anniversary of our marriage!
We arrived the next morning to a beautifully clear and sunny day in Capetown! The first sight of Table Mountain was just as fabulous as I was expecting. After arrival, we found some hostel information and jumped on the "Backpacker Bus" to a great hostel near the Waterfront called The Big Blue. We spent our first day taking a big walk through the Seapoint and Waterfront areas. We went to bed early that night, since we didn't sleep much on the flight, and work up the next morning, 12 hours later. And for some reason, the combination of the bad airplane seat, followed up with 12 hours in bed was enough to give me a horrible back ache, so I spent most of the day hobbling around Capetown's city centre like an old man. It is slowly starting to feel better, but I think it will be with me for a while yet. Despite this small problem, we spent the last few days exploring Capetown and making plans for the rest of our time here. We did a wine region tour yesterday which included stops at four wineries and five wine "samples" which were actually about half a glass each, at each of them. After 20 of those beauties, the facade of a cultural/educational event was completely shattered and all the participants were well and truly smashed. Today we took the cable car up to the top of Table Mountain, which was definitely worthwhile.
We have decided to rent a car and start slowly making our way up to Johannesburg. We get the car tomorrow and are going to do a day trip up the west coast then the next day we'll leave Capetown for a small town east of here called Hermanus. Should be lots of fun!
Kris
Sept. 29, 2002 - Betty's Bay, South Africa
We have so much to tell and so little time to write about it. We have had an absolutely fabulous few days touring around the southern Cape. We got our car on Friday and decided that we would visit the west coast, north of Capetown. Few people actually visit that area, as it is not as scenic as the Garden Route along the south side. We took off and ended up in the West Cape Nature reserve. It is the end of wildflower season so there are piles of purple, pink and yellow flowers everywhere. As we got in the reserve, we stopped at the Tea Room and had a great Earl Grey and watched a slew of yellow birds in their hanging tree nests. As we continued into the reserve, we came upon a turtle crossing the road, springboks (sort of like a big antelope), a wildebeast and a herd of zebra, how exciting! But our best animal of the day was a Puff Adder snake we saw at the side of the road. We stopped and took some photos (not too close!), but didn't realize at the time how venomous this snake really is. We'll stay far away from African snakes in the future, don't want to risk a bite. So a great trip and our first experience with the African flora and fauna.
We said good bye on Saturday to our friends at the Big Blue Hostel in Capetown and began the next leg of our trip which will take us through the Cape peninsula, then over to the Garden Route, where we will meet with Kris' friend Trudy and her partner Philippe this coming weekend. We spent much of the first day on the most beautiful mountain roads ever!! The view of lush green mountains with wild flowers on one side and the blue and white sea crashing on the cliffs on the other, was just spectacular. We drove all the way to the bottom of Africa to another reserve called the Cape of Good Hope Reserve. In the reserve we came across a little pack of baboons. They were really cute!! On the way there, were were also fortunate enough to see a whale in one of the bays. So we made our way to Betty's Bay and stayed the night. In the morning we planned to get on the road and make our way to the great white shark diving capital of the world, Hermanus, but we met a fantastic couple in the coffee shop. Michael and Cheryl are South African and offered to show us a little of the coast. They are from Capetown, but have a beautiful summer home in Betty's Bay. We spent a great afternoon with them seeing a little more of Betty's old whaling town. We love South Africans!!! So we have now arrived in Hermanus. Our $15.00 USD per night room at the local hostel is nicer than most hotels we've been in and they have a pool, a TV rooms and a bar about 7 steps from our bedroom, Kris is in heaven!! To top off an already fantastic day we spend the last 2 hours watching 6 whales frolicking in the bay. It doesn't get much better than this. So we are off now to finish the day with a $0.60 beer and a $3.00 steak. More soon....
Ana
October 10, 2002 - N2 Highway on the way to Drakensburg Mountains
We apologize for the lack of communication in the last week. We've been busy making our way up the east cost of S. Africa. It's been fantastic and we've seen so much...it feels like we've been here for months. After we left Hermanus we made our way into an area in the mountains called Outdsdoorn. It is Ostrich capital of the world. There are more there than anywhere. They grow them for their meat and their feathers. We went on a great tour of an ostrich farm and I even got to ride one. I'm sure will show you the hilarious video at some point.

The area is also known for it's caves. There is a huge cave system in the mountains there called the Cango Caves. We went on a tour into the caves called the adventure tour. I must not be very adventurous because it was hard work. We firstly went into 3 large caverns, all with their own unique names and stories. Then the more we walked the smaller and smaller the caves and their entrances got. The last tunnel we had to climb through a chimney like formation. If you weighed 10 lbs more then I do you'd have a hard time make it up. Then the last one you had to lay on your stomach and pull yourself through and then go head first out of another hole. It was an interesting experience, not for the timid or claustrophobic.
Our next stop was a beautiful place, aptly named Wilderness. This is where our friends Trudy and Philippe have built a gorgeous home overlooking a cliff and the Indian Ocean. The village is also home to a lagoon so it has plenty of places to go canoeing and hiking. We mostly stayed around the house and tried to help out a bit with a plumbing problem that soaked their entire main floor. They showed us such a splendid time there from the champagne sunsets to the fantastic meals out at the local restaurants. From Wilderness we also made a trip on the local steam train to a place called Knysna. It has a beautiful harbour area and we went on a tour of the Knysna Oyster Co. For a whole $1.00 we went on a little tour and did some oyster tasting.
As we continued our way up the coast, things are getting less and less developed and more and more African. The next area we went to was called the "Wild Coast" or also known as the Transkei. The Transkei use to be its own country, but in the last 10 years they have become part of S. Africa. Not soon enough as the locals have stripped every tree in sight, so the initial drive was a bit of a bore. The trees were replaced by these interesting little green and brown clay huts. These belong to the local Xhosa people. This tribe dominates the area and we spend some time getting to know a bit about their culture. We stayed on the coast in a teeny little town called Coffee Bay. The hostel was owned by a couple who have turned this very primitive place into a paradise. There are hammocks and a bar, a walk to the beach and lots of place to hide and read a good book. They even have yoga!!! In the evenings they have traditional drum lessons and they have the local kids come and sing and dance their traditional music.

Perhaps the nicest part of our trip so far was on a Town Tour we went on. Silas our Xhosa guide took up to his house to meet his family and told us about his tribe. We walked to their sacred pools were they baptize people and make sacrifices to their ancestors. Lastly he took us to the local bar. It was quite dark as there was only one candle, (no electricity in the village). Inside there was a few ladies and 3 men smoking and enjoying a brew as they sat on some beer crates. Silas bought us some local beer made from corn and the music came on and all the ladies got up to dance. It was like a regular nightclub except that the women were wrapped in blankets and some didn't have shoes. One even had a beautiful baby wrapped on her back. So we danced, and drank and laughed. It was amazing.
So today we left our new friends, to find a few new ones in the mountains. Hope to hear from you all soon. Happy Birthday Mom!!!
Ana
October 31, 2002 - Busselton, Australia
Auuuustralia!!

Yes, we made it to stop number two on our round the world wine tour. We have been in Western Australia touring around with our friends Karen Barlow and her boyfriend Jamie and they have been showing us an absolutely splendid time!

We wrapped up our South Africa trip with a few day in Johannesburg with our friends Trudy and Philippe. They were the perfect hosts! We spent more than a couple hours enjoying their mind blowing home entertainment system and vast collection of DVDs which was a great break after all the driving around. We also enjoyed some great meals together and really had a nice visit. It was the best ending to a wonderful time in South Africa.

We arrived in Perth about a week ago and were met at the airport by Karen and Jamie, who had both taken time off work to spend a long weekend with us cruising around Western Australia. It was so nice to see Karen again and also to met Jamie, who is a super guy. We spent the first night in Fremantle, which is a coastal town near Perth, and sampled all the local beers we could find. The next days we drove to a small town called Denmark which is on the south coast and spent for two nights. We saw some great things around there including a magnificent canopy walk through the "Valley of the Giants" which is a forest of huge karri and tingle trees. We also saw our first kangaroos! Ana tried her best to catch one and ride it but it was just too fast for her. We visited some lovely wineries and sampled many varieties of delicious wine. Unfortunately, the price of wine here is astronomical compared to South Africa, likely three times the price! But I'm glad to report that hasn't stopped us from consuming vast quantities...
The last few days we've been hanging around Karen and Jamie's place in Busselton, keeping ourselves busy with squid fishing, crabbing, and drinking beer. Poor Karen has been working all week but Jamie managed to ditch work and is spending his hours showing us around, lucky Olsons!!! This morning Jamie and I were up at 5:30, same as yesterday, fishing for squid off the incredible 2 km long jetty. We caught four including two biggies so have amassed enough squid for a big feast tonight. In a couple hours we are traveling to Karen's parent's place which is near Bunbury. The plan is to try and catch some marron (lobster-like shellfish, indigenous to western Australia) this afternoon then join Karen's parents for a big barbeque tonight, which they have kindly invited us to.
We extended our stay here to include this weekend (Karen's off work, yeah!) so we plan to do some interesting day trips and probably drink some more wine. Jamie introduced me to Emu Bitter so we'll likely drink a few more crates of that as well. It's good to be on vacation!
We will be leaving from Perth on Monday for Sydney, then catching a flight to Cairns to hit the beaches and diving! We are planning on meeting our friends Pavdaddy and Jayesh somewhere along the east coast...meeting point as yet unknown but that is sure to be a blast.
That's it for now, next update from the east coast!!
Kris
(almost forgot, Happy Halloween!!!!!!)

November 11, 2002 - Airlie Beach, Queensland, Australia

It's already been a week on the east coast and the time is passing much too quickly. Ana and I arrived in Airlie Beach this evening after a 12 hour bus ride from Cairns which was surprisingly relaxing and comfortable. Tomorrow we embark on a six day and night sailing trip around the Whitsunday islands on the Solway Lass - a 127 ft Tall Ship! We are hoping that this will be one of the big highlights of our trip. The ship was built in The Netherlands in 1902 and has been through two world wars, four name changes, innumerable countries, and has served as a cargo vessel, ice breaker, war ship, coal transport, floating restaurant, and now a fully restored tourist sailing vessel (check out www.soxsail.com.au). Our plans after that are to visit Fraser Island on a multi day trip then work our way toward Sydney in time for our Nov. 30 departure to New Zealand.
We had quite a nice time in the Cairns area. We found Cairns to be a very busy tourist town, but quite a fun place to be. The first hostel we stayed in was called Castaways and seemed okay until we found that our bed was infested with bed bugs which were biting us as we were sitting on the bed. Unfortunately, the office was closed by that time and there was no staff around so we had no choice but to strip the bed and clean it the best we could then put our own sleep sheets on it. We still got a few bites during the night but not too bad. The next day we found another place called Dreamtime Traveler's Rest which turned out to be a real gem with great staff. From there we took a lovely two day tour to their sister hostel called On The Wallaby which was located near a rainforest. We went on some interesting walks in the forest as well as biking, swimming, and even canoeing where we saw three platypussies (not sure of the grammar on that one, but that's the most humorous word I can think of for the plural of "platypus"). Strange little creatures, sort of half duck half muskrat but impossible to differentiate between the head and the ass end.
One thing that has surprised on the east coast is the tourism saturation. It is certainly one of the more commercialised areas we've ever been to. In fact, there's so many backpackers around that it's sometimes tough to find an Australian! The average age of backpackers here is also much younger than it was in South Africa, likely because this is such an obvious place for a first time traveler to visit, and I think that any 20 year old would find the party of their life here! The other day we saw a t-shirt in a shop window that said, "The Liver is Evil and Must Be Punished!". Made me think of my time in the Bahamas...
We were lucky enough to meet up with our friend Pavin, who is from Saskatchewan but is currently in school in the States. We spent an afternoon together in Cairns enjoying the sun and some cold beers before seeing him off to the airport for his flight back home. Too bad he wasn't staying overnight then we could have punished our livers more thoroughly. Actually, I'm going through a little dry therapy at the moment after the ten days I spent boozing with Jamie in Western Australia which I enjoyed thoroughly and am still enjoying every time I look in the mirror and see those little spare tires peeking over my swimsuit.
Next update after the big sailing trip!
Kris
Nov 25, 2002 - Hervey Bay, Queensland, Australia
Today is Ana's birthday! And we are celebrating by getting on a bus at 7:00 and traveling to Brisbane where we will go out for a nice birthday dinner and spend the night. Tomorrow we will continue to Byron Bay where we willl spend a night or two before making the final stretch to Sydney.
Our trip to Queensland has been magnificent! We'd say that the six days sailing in the Whitsundays was definitely the highlight of our stay in Queensland. It felt great to be back on the water enjoying the salt, sun and surf. The only disappointment was the diving which was unremarkable, but we weren't too worried about that. We put together a page on our sailing trip with plenty of pictures. I was wishing that the boys from the Lost Shaker could have been with us on the trip as it would have been a great reunion! After such a great time, Ana and I have decided that we definitely need to own another sailboat in the future!
Last night we returned from a three day tour of Fraser Island, which is the largest sand island in the world with some amazing natural features. There are no real roads on the island so the only way to get through the sand is with a good 4WD vehicle. It is quite a feeling doing 80 kph down a beach with the surf crashing in! One of the most amazing things we did was a hike across a huge "sandblow" which was just like being in the middle of a desert. The hike ended in a beautiful clean freshwater lake that was great for swimming. Now that I think about it, I better put together a little feature page on Fraser Island.
We are getting very close to the end of our time in Australia. It has been an extremely easy place to travel through due to the highly developed (and competitive) tourist industry. By the same token it makes it much more difficult to get off the beaten path and explore on your own, which is what we like doing. Oh well, we are going to get plenty of that in South America so we're just enjoying the easy traveling while we have it!
The next update may be from New Zealand....
Kris
December 10, 2002 - Christchurch, New Zealand
It's been a busy time in New Zealand! We arrived in Auckland about a week ago to gorgeous weather and decided to bus north to a town called Paihia which is on the coast of the Bay of Islands, an idyllic island paradise off the northernmost part of the north island. We took a 24 hour tour on this unbelievable houseboat called "The Rock" and packed in a lot of activity including fishing, snorkeling, diving for mussels, sea kayaking, hiking, billiards, dolphin watching, and even some relaxing on the beach! I also did a half day fishing excursion (Ana passed on this) and caught a pile of red snapper which we ate for dinner that night. We returned to Auckland and then flew to Christchurch where Johnny Eyre-Walker was there to meet us with a smile and three cold beers. It was great to see him again! We moved into his and his girlfriend Carolyn's house then settled in for a night of hangover construction. I made sure to arrive on a weeknight so I could wave Johnny bye bye as he left the next morning for work - revenge is sweet!
It was Carolyn's 30th birthday last Saturday so they had a big barbeque party at their place where we met a lot of their friends and family. We got a little rained out, but that didn't stop anything - it was a great party.
We are now getting ready for our tour of the South Island and have reserved a Harley Davidson Softail Classic for two days beginning tomorrow! I am so excited I can hardly contain myself as I've never ridden a Harley before. I think we are going to ride to Queenstown then back up the west coast and over to Christchurch, as it's meant to be a spectacular drive. We will return on Friday then are planning a weekend away with Carolyn and Johnny, destination unknown. Next week we'll likely hang around for a few days then make our way northwards and find a nice place to spend Christmas. We'll be missing you all but at the same time enjoying the weather!
Kris
December 17, 2002 - Christchurch, New Zealand
I was born to be a biker, of this I am now sure. Our Harley ride was spectacular and to make the experience complete, day two was a complete washout and we looked like eels after spending a full ten hours on the bike through torrential rainstorms. Luckily, we made it back safely and had pure sunshine on our last morning's ride into Christchurch, which was a stunning ride through Allan's Pass which had some incredible views. We did a total of about 1200 kilometers which isn't too bad considering it was very slow going on many of the mountain roads. One of the most scenic things was the proliferation of gorgeous yellow and purple wildflowers in the fields around the mountains. Now all we need to do is settle down somewhere so I can get myself a bike!
We are nearing the end of our visit here in Christchurch. We leave here on Thursday and will be heading up to Nelson for a few days then we'll take the ferry to the north island and spend Christmas in Wellington. After that we only have a few days to get back up to Auckland for New Years and the next leg of our journey... to Chile!
Kris
December 24, 2002 - Wellington, New Zealand
Merry Christmas!! We are having an extremely lazy morning here in Wellington. All the Christmas shopping is done (1 present each) so it should be a very stress-free day. The biggest challenge will be scouting out a good restaurant to have dinner tonight. We are staying in a lovely apartment-hotel right in the centre of Wellington and will be here until the 26th when we begin the last leg of our journey up to Auckland.
Our time with Johnny and Carolyn couldn't have been better. They showed us a fantastic time and it was a real pleasure to see them again after a couple years. On our last weekend they took us to a place called Hanmer Springs which is a lovely little mountain town a couple hundred kilometers from Christchurch. They organised a beautiful house with stunning views of the town and mountains and only a short walk from the hot spring pools where we enjoyed a good soaking in the afternoon. We had the most chilled out night sitting in front of a crackling fire in the fireplace with some great wines, cheeses and music. Johnny and I learned that it is actually possible to have an enjoyable night together without getting absolutely blind. But for old times sake, we got the big guns out for our last night in Christchurch which resulted in a magnificent hangover the next morning. I was happy to wave Johnny bye-bye one last time as he trotted off to work with bloodshot eyes and this alcohol vapour seeping out of him which gave him the appearance of being surrounded by a force field. He called me from work to report that the staff in the office had taken up a collection to go buy him some breath freshening gum. Mission accomplished!
Kris
January 1, 2003 - Auckland, New Zealand
Happy New Year kiddies!! We had a quite but very nice time last night sitting in a park drinking wine, smoking a cigar, and watching the fireworks shot off the top of Skytower in the centre of Auckland. We've been exploring the city for the past few days doing plenty of walking and sightseeing. Yesterday we wandered through the harbour which is the home of the America's Cup sailing race, quite interesting.
Today we are hanging around the hostel waiting for our taxi which is arriving at 2:00pm to take us to the airport. We fly overnight to Chile, gaining a day in the process, and will arrive in Santiago at noon on New Years Day. If my calculations are correct we should get another New Year's countdown somewhere over the Pacific!
More to come from Chile....
Kris
What a year it's been already and it's only the 10th of January. We needed a second wind for this last half of our adventure and we have certainly gotten it here in South America. WHAT A PLACE!!!! Where do I begin...We arrived in Santiago, Chile and spent a day adjusting to the 16 hour time difference. We then called our friend Alvaro and went for dinner with him in his wife at a great little restaurant in one of the suburbs of the city. Our first day out and already the place is full of character and amazing sites around every corner....viva los latinos....they are a great bunch!!
We no sooner got to Santiago, when we found cheap flights to the northern border city of Arica. So off we went to the desert. This little town emerges out of no where like a mirage. Not much there but a huge market, miles of sand, a museum with Inca mummies and plenty of transport options to Peru. The border crossing was amazingly straight forward and our driver did everything from fill out forms to stand in line! What service! The first major town we arrived in was called Arequipa. The centre of town is full of beautiful colonial style cathedrals and buildings which are lit up at night! Although it seems to have much to offer tourists, there didn't seem to be many, and that was perhaps the best part of all. We also went to a 15th century convent called Convento de Santo Catarina, which is the size of a small town.
We next decided to go on a fantastic over night tour to the second deepest canyon in the world called Canon de Colca. Quite a sight, as were the condors which circled overhead. One part of that tour that I WILL try and forget is the giant rodent (Guinea Pig) that Kris ate that evening...Ugh!! They are apparently a local delicacy and Kris insists on trying all local foods. We had a diverse group of people on the tour; four Peruvians, one American, one Brazilian, one German, one Nicaraguan, one Palestinian, one Irish, one French and us two Canadians. Quite a group, but to top it all off, we ALL spoke Spanish!!!
Our next stop was the famous Machu Picchu ruins near the colonial town of Cusco. Cusco is one of the last inhabited civilizations of the Incas. It is surrounded by ruins, and has a variety of churches, and other monuments, later built by the Spaniards which arrived in Peru in the 16th century. Machu Picchu is the largest and most well preserved display of Inca ruins in the world, and it was magical. It took 4 hours by train and another 1/2 hour by bus to get there, but it was worth every minute. We had a wonderful guide who described he place, like he had built it with his own two hands. He was the most passionate and articulate tour guide we've ever had!! So just when we thought that nothing could top what we'd seen in Peru, we come to Puno, a small unattractive little town on the highest navigable lake in the world called Lake Titicaca. This afternoon, we went on a boat ride to the a group of floating islands made entirely of reeds. On these islands live a community of 800 descendants of a pre-Inca race called the Uros. They build the islands, their homes, boats, all out of these water reeds. They survive by fishing and then bartering with other floating islands and the people from the mainland. Such a simple life, but they all had the most magical smiles.....we have so much to learn.
So that has been our first 10 days of 2003. I only hope the next 355 are as exciting.
Ana
January 19, 2003 - San Pedro de Atacama, Chile
We're back in Chile after our Bolivia expedition. In short, we were quite disappointed with Bolivia.. We found the people to be much less friendly and competent than Peru and Chile and even rude sometimes. La Paz was quite an interesting city upon first arrival but once you got into the guts of it, we found it to be just another busy, filthy, noisy city, except with many more aggressive beggars and merchants. Once good thing was the low price of things, there were a lot of bargains to be had. I bought a stringed instrument called a charango, which is a beautiful sounding guitar-like beastie used in Bolivian music. Ana picked up a lovely alpaca sweater. We also found a great hotel where we did a bit of relaxing.
We booked ourselves on a four day tour to the Uyuni region in the south west part of Bolivia. We had a bit of trouble getting there (if you have ten minutes, have a look at this story) and saw some really seedy towns along the way. But once the tour was underway, we really did have a great time, mostly due to the fantastic group we were with. We had a Bolivian guide named Emilio and the other people were an Austraian/New Zealander couple and a Swiss couple, all of whom were fantastic people with great senses of humour. The Bolivian countryside we traveled through was nothing short of amazing. The scenery changed from a gigantic salt lake, to dry desert cactuses, to huge snowy mountains, to lunar dust, to muddy lakes full of flamingos, to red lakes, to mountains of borax and, finally, to a final night's accommodation that was so putrid, so foul, and so disgusting that even Ana was looking for the sweet anaesthesia of alcohol. I don't want to write too much about it, I think there is a good story to come from that trip!
We arrived back in Chile yesterday to a town called San Pedro de Atacama which was described as a lovely frontier town by the guide books but is actually a dusty, overpriced, gringo hole. The only redeeming features are the selection of nice restaurants with great food and groovy bars. We had a splendid time last night with a bunch of the people from our tour. We had dinner and drinks in a restaurant with an open roof in the centre allowing lunar rays to shine in and a crackling wood fire on the ground. We sat around the fire playing cards and having a good laugh. We are going to meet up with the Australian/New Zealander couple in a few weeks in Argentina and Brazil which is sure to be a great time.
We will spend the day here tomorrow then in the evening catch a night bus back to Arica where we will have a day then fly back to Santiago. It seems like it has been ages since we arrived in Chile but it's only been a couple weeks! Good sign, that means our trip isn't going too fast...
Kris
March 26, 2003 - Brantford, Canada...basement of Ana's parent's house
You are probably wondering, 'What the hell happened?'! It has been two months since our last journal entry which is the result of us being robbed of our laptop on an overnight bus in Chile. After the required visits to the police station to report the loss we moved on to Argentina....and were robbed again!! This time the cabin we were renting was ransacked when we were out for dinner. So, a fair bit of bad luck came our way during that portion of the trip but we did manage to recover and had a splendid time traveling through Argentina and Brasil, especially since we were traveling with our friends Rebecca and Fraser whom we met in Bolivia.
We are now back in Canada and have since replaced our laptop and are finally able to get back online to update our site. We are going to do some work on the site over the next few days so stay tuned!
Kris
April 7th, 2003 - Brantford, Canada...basement of Ana's parent's house
It has been a week of rotten weather and I have discovered a few new types of snow here in Ontario. In Saskatchewan we have only three kinds of precipitation; rain (which makes farmers happy), hail (which makes farmers cry), and snow (which makes farmers go to Florida). In Ontario they are more advanced and have many more varieties. Freezing rain is when it's quite cold outside but somehow raining. When rain hits the ground or the surface of anything it instantly freezes which results in a icy covering. When a car is covered in this you need a piece of something solid to chip the ice away, a regular plastic credit card just won't do as an ice scraper. Another variety even more interesting is ice pellets. This is when it is cold outside and raining high up in the atmosphere but instead of the raindrop turning into a lovely artistic little snowflake it instead freezes into an icy bullet. And when you get hit in the face by these ice pellets it does indeed feel like you've been struck with a shotgun blast. When these ice pellets start to pile up on the ground they don't turn into fluffy snow, instead you get piles of miniature ice cubes which are not easy to walk or drive on. The end result of all this is absolute chaos. I woke up the other morning and the radio stations were listing off all the places which had closed down due to weather and these included many schools, hospitals, government buildings, universities, public transport and highways. Because of this we had to cancel the driving trip we had planned to take to Ottawa to see my brother and his fiancee. So instead we rented a bunch of movies and hung around the house eating and drinking and laying on the couch watching the tube. And we wonder why Canadians put on a little weight during the winter months!
Our job hunt is underway and we have been busy emailing people, making phone calls and surfing the internet. Ana's mom even did her part and put together a little shrine in the kitchen with some icons of saints and burning candles which is meant to give us divine help. It's similar to a shrine she had constructed to get us home safely during our big trip which obviously worked so what the hell, it's worth a try!
There hasn't been much else happening. Oh yeah, Ana tried to kill her mom the other night. We took them out for dinner for John's birthday and went to a local country restaurant. Ana's mom ordered the prime rib which came with a side bowl of horseradish. I put a bit on my steak and Ana's mom asked what it was as she had never seen it before. Ana said it was a Canadian steak sauce and offered her the bowl to try it. Before Ana could do anything, her mom scooped up a big pile on her fork and dropped it in her mouth and started munching. For those of you who have experienced a high power horseradish blast you can imagine her reaction. She blurted, "yahhh!" and the tears started to flow as she was desperately grasping for her water. Though we felt sorry for her, Ana and I were laughing hysterically by the point until the tears were falling from our eyes as well. She's used to eating spicy Portuguese hot sauce which is also very spicy but has a rather 'slow burn' which sneaks up on you then lingers around for a while. The horseradish effect is completely different. As soon as it hits your mouth it sends a wasabi lightening bolt right up your nose and you can feel smoke coming out of your ears as you are blinded by the tears. Then, fifteen seconds later it's all gone, almost like it never happened.
That's about all the news for now. Wish us luck on the job hunt!
Kris
June 21st, 2003 - Calgary, Alberta
Still no job.....but we're looking hard!!
We decided to relocate to Calgary since the Brantford job search was not going too well. We were lucky enough to have an offer from my aunt and uncle to stay with them in Calgary until we find something and get ourselves organized. We've been having a lovely time together visiting, drinking wine, and exploring Calgary. It is a very nice city with a downtown area that is very compact, very clean and easy to get around. We are thinking we will likely look for an apartment downtown if that is where we end up finding jobs. I have several cousins that live there so we're looking forward to spending much more time with them in the future.
We did a day trip to Banff and Lake Louise last week which was a lot of fun. Once I get the film developed I'll put some new pictures up on the site. As well, I managed to negotiate a stop in Saskatchewan for the annual fishing trip with the boys! The fishing was absolutely spectacular and the weather was pretty good. It was such fun going out fishing again and I really hope that we will be able to find work in Canada and stay here so I can make it an annual event! There are not many places we have traveled to in the world where you can spend 4 days in the quiet wilderness with nobody else around for many miles, drink water straight from the lake, see lots of wildlife, catch fish until your hands turn blue and breathe in the delicious, unpolluted air. I think I'm going to have to put up a Fishing Trip 2003 page so you can all see some of the photos from that superb weekend.
We have set up a temporary cell phone number where we can be contacted and it's 403-889-6980 or the house number is 403-201-2730.
That's it for now, take care!
Kris
August 9th, 2003 - Calgary, Alberta
30 degrees again today, there is nothing better than a Canadian summer! Ana and I are back in Calgary after spending a couple weeks in Saskatchewan attending some great family functions. My grandparents had their 50th wedding anniversary, Curtis and I threw a huge weekend stag for Marty, and of course Marty and Jen got married so it was an extremely busy time. Most of the Olson and Gustafson family were in town so we had some nice visits with everybody. The only bad experience was this wisdom tooth I had extracted, which had about nine roots and weighed half a kilo. Now there is a giant hole in the back of my mouth that doesn't seem to be filling in. Perhaps that's more information than you were looking for...
We are still hard on the job hunt and both of us have several opportunities we are now working on. We are really looking forward to getting settled here and into a routine. Ana's been hitting the garage sales stocking up on the things we will need for our place, which is pretty much everything from wine glasses to lamps to pots. We've been avoiding any large purchases until we definitely nail something. We've also been out test driving cars and looking at houses and condos so that has been keeping us occupied.
We have no other big plans for the rest of the summer so we'll just keep our heads down hunting for work and enjoying this time we have with Barb and Gerry which has been a real treat.
Just got off the phone with my friend Ian Lavoie whom I haven't seen for about five years. He lives in Calgary now and is on the way over with his little son Jakob for a visit!
Kris
September 7th, 2003 - Calgary, Alberta
Finally, it's all coming together. Besides hemorrhaging dollar bills out our backsides, the past few weeks have been superb. In that time we have both found jobs with WestJet, bought a new Hyundai Santa Fe, bought a condo, and bought enough stuff to fill our new place, such as couches, tables, lamps, carpets, beds, etc, etc. Ana and Barb have been burning up the garage sales getting deals on all sorts of stuff. In fact, I'm going to produce Ana's brand new reality television show called, "Extreme GarageSaleing - Hosted by Junkaholics Ana and Barb".
The place we bought is in a groovy neighbourhood called Inglewood and steps from the river. It is a semi-detached townhouse style condo which means no yard work and no shoveling of snow, yayyyy! It is a three bedroom place with plenty of space so all visitors are welcome. We have even decided to put a home gym in the basement for the amusement of my musclehead friends (Mike) who like to punish me.
Ana is working in the Marketing department of WestJet and loving it, especially since most of her co-workers seem to be quite insane. I am working in the department they refer to as "Beanland" as the JD Edwards guy and really enjoying it. The staff at WestJet constantly walk around with these big smiles plastered on their faces, leading me to believe that there is a "free drug" policy at work as opposed to the regular boring "drug free" office environment. Either that or they really do enjoy their jobs. It is an amazing company to work for as almost all of the employees are shareholders and are all focused on keeping costs down and, therefore, profits high. I think we are going to be quite happy there. The best part is that we can now fly for very cheap all across Canada so perhaps our traveling days are not yet numbered!
Kris
October 19th, 2003 - Calgary, Alberta
It's the middle of October in Canada and the weather is still beautiful! It is a lovely Sunday day and Ana and I just returned from having a coffee at the Serendipity cafe on 9th Avenue, a few blocks from home. I went out earlier this morning for a round of "disc golf"; which is golf played with a frisbee-like disc (check out www.pdga.com). There is a course ten minutes from here and it is absolutely free to play so I've been honing my disc throwing skills every weekend morning.
We had a big housewarming party last weekend and lots of family and friends were over to enjoy it. Ana's folks came from Brantford for the long weekend and as well my dad and brother Curtis were here. It was quite a hectic weekend but a lot of fun and gave us our first opportunity to show off our new house (I'll post some pictures here once we get them developed). It has been so nice having our own place and waking up in our own bed every morning! I guess most people take that for granted but for us it is something special.
We are planning a trip to Saskatoon next weekend to attend Sheldon Olson's wedding so that's sure to be a blast. Besides that we (thankfully) do not have much planned up until Christmas, which should give us lots of nice quiet weekends at home - also quite a novelty for us!
Carrie is playing in Calgary tomorrow night and Tuesday and plans to stay with us here so we're looking forward to seeing her. One of the places she is playing at is the Ironwood Stage and Grill, which is a five minute walk from our house, very convenient!
What else? I've been lucky enough to reconnect with a couple of great friends from a long time ago; Ian Lavoie and Jeff Stone, neither of which I had seen since university days. In fact, we all went for a round of disc golf together yesterday that was a good time. That has been one great advantage of being in Calgary, there are loads of Saskatchewan people here; therefore some familiar faces.
Time to get back to my quiet Sunday (more coffee!!).
Kris
November 22nd, 2003 - Calgary, Alberta
Winter is here and it's not going away. The thermometer reads -25 degrees this morning so I likely won't be going for my Saturday morning walk! It has been quite cold here for the past few weeks but I must admit I have been enjoying it. There is no better excuse to hang around the house reading, drinking coffee and listening to great music than when it's cold enough outside to freeze the nuts off a polar bear.
Our old buddy Toddy Van Hees arrives Monday and will be with us for Christmas and we are very happy he's decided to come for a visit. We have all sort of activities lined up for the next few weeks including my brother's stag party and wedding which is sure to be a raging success! I'm also going to send Toddy out with Uncle Gerry for some he-man activities while I'm slaving away at work.
It is Ana's birthday on Tuesday, her favourite day of the year! So make sure you send her an email, she will love it!
Kris
December 25th, 2003 - WestJet flight to Toronto
I think I might be on the verge of a weekend that actually involves sleep. We are in the air over Winnipeg at the moment en route to sweet home Borges in Brantford after a hectic couple weekends in Saskatoon. We're looking forward to some great Portuguese cooking and gallons of big John's turbo wine.
We had a great Christmas eve last night at "Casa Barbara" with the Davidsons. And they really went to town on the pressies!
I can't wait to settle into that nice couch downstairs and do lots of nothing, definitely a great chance to recharge the batteries.
Kris
February 29th, 2004 - Sunday morning in Inglewood
Three months into the new year, I'd say things are going very well for us. Work has been busy but we've also managed to get away for a couple great weekend trips. We recently went to Montreal and Quebec City to meet up with some friends we made in Argentina. We also went to visit Marty and Jen in Ottawa for Marty's birthday. From Ottawa we drove up to Sharbot Lake to stay with my aunt and uncle at their cabin. It was such a treat to stay at a warm, secluded cabin in the middle of the wilderness. The roads leading into the cabin were blocked with snow so we had to pack our gear on sleds and hike into the cabin across the lake, which is something we've never done before!
Just a short one for now,
Kris
April 30th, 2004 - Friday night in Inglewood
CKUA.
93.7 FM. Friday night blues party. Makes me want to grab my harmonica and rip off a few good blues riffs, maybe I should do that.
It's funny, time seems to be moving so slowly. In fact, time has never moved so slowly for me in my life, except maybe when I was fifteen years old and had ordered my first Columbia House shipment of fifteen cassettes tapes and had to wait six to eight long, long weeks for it to arrive. What was in that musical selection? I remember Queensryche, Ratt, GNR, Led Zeppelin, stuff you can easily download today in a matter of minutes. Imagine that. I had to wait six to eight weeks for my shipment...now I can download it overnight for free, if I so desire. Well, you'll be happy to hear that I haven't been downloading much Ratt lately! The only think I've attempted to download recently is an Arrogant Worms song called "Proud to be a Banker", though I couldn't find it anywhere.
So it seems to me that since the dawn of the internet, there's only now two guaranteed ways to slow time down in this furious world of ours; commit a felony and get yourself some jail time or get your wife pregnant. I can vouch for the second, my only experience with the first is a brief stint in the North Battleford cop shop after a Mai Tai drinking contest and a midnight tour in my blue '69 Dodge Dart, though in that state, time becomes a little warped anyway.
But the second, oh yes, I can vouch for the second. My little baby is busy growing ounce by ounce in my beautiful wife's bountiful buddha belly. It is taking so long, but I suppose I should be thankful and trying to enjoy the quiet while it lasts. I guess I'm just anxious to meet the little person face to face.
I haven't been writing a lot of journals lately, but you can expect the "new parent" effect with plenty of pictures and words after Fuzzy's arrival in August....if I can find time!
Kris
July 27, 2004 -Tuesday night in Inglewood
I thought it was about time that I chip in with the website updates and write a journal entry. It will also be interesting to read this in a few months and remember how dramatically different life was.
I'm 38 weeks pregnant and still growing. My official due date is August 13th. The doctors tell me that they will induce me at 41 weeks, thank God, so the latest I'll have the baby is August 20th. I must say I have had a wonderful, healthy pregnancy but wonderful or not, 9 months of pregnancy is just about all I can handle. I'll be very happy to see Fuzzy's beautiful face.
Everything is ready for the exciting arrival. Our house is now fully transformed into a baby haven -- play pens, swings, change tables and cribs. It's quite unbelievable how much stuff you need for a new baby.
We are also looking forward to all of the family and friends we'll see with the new baby's arrival. My mom and dad arrive on August 21 and will stay with us for 3 weeks. We've decided to keep my dad out of trouble by keeping him occupied finishing our basement. We figure we'll need all the space we can get with a 3rd busy family member.
We are thrilled with this new era in our lives and we are looking forward to ALL that parenthood has to bring...the sleepless nights, dirty diapers, the little smiles and the unconditional love.
Ana
August 21, 2004 - First day at home with Magnus
Just arrived back from the hospital with our new little baby, Magnus Antonio Olson, born August 20 and entering this world at 8 pounds, 13 ounces. Our little "Fuzzy" turned out to be a boy, just like Ana was predicting, and we are both so happy to have this little guy in our lives. It looks as if all the grandparents and great grandparents are arriving tomorrow to meet him so he's sure to have a very busy day absorbing all that love and attention.
All I can say is, what a miracle! It's hard to describe the birthing experience (as the person saying "push, push!" at least!) but picture his entrance into the world: once the head appeared, the body followed very quickly and in an instant this little baby was lying on the bed with his arms spread wide, head back and eyes wide open looking up at us as if to say "Here I am!!"
The weeks ahead are sure to be a big learning experience for all three of us.
Kris
Magnus is now a little over 3 weeks and is doing great!! Being a parent is fantastic! Magnus has a lot to do with that. He is a perfect little baby. Cries very little and sleeps lots. I must say that this being a new mom has so far been much less stressful than I had expected. But the whole experience has been wonderful from the first days of pregnancy right through to labor.
All the relatives have now left and we are now back to a regular routine. We had a steady flow of grandparents, aunts, uncles and cousins for the past three weeks and my parents stayed for the first few weeks to help us with Magnus and help finish our basement as well. With that done, the real relaxing can begin. Kris is enjoying his new job downtown at Shell and we have already gone to meet him downtown for lunch. Magnus is surely the most cultured and well traveled baby around. In his short life he has already been to Hertiage Park here in Calgary, Banff to see the mountains, Drumheller to the Tyrell museum, and he is already an official annual member of the Calgary Zoo with his own picture ID.
Our next big chore is to get his new passport so the real world traveling can begin. We are hoping to get Magnus on his first plane ride to Saskatoon for Thanksgiving, then Brantford in November for his baptism and then back for Christmas and we are hoping to have him on his first international voyages to San Francisco and the Azores next year.
So life just couldn't get anymore grand!! More photos and news on Magnus and life in Calgary soon.
Ana
October 31, 2004 - Halloween Night
Tonight all the ghosts and goblins will be out and we will be home to help give them rotten teeth. Magnus isn't quite old enough to enjoy his first Halloween, but we have been enjoying all the festivities for him. We recently went to Boo at the Zoo at the local Calgary Zoo and it was quite entertaining with all of the little kids dressed up in their coolest costumes.
Magnus is 9 weeks old and is doing fantastic! He sleeps throughout the night waking up between 5:30 am and 6:00 am and I've even got him going back to sleep until about 9:00 am most mornings. So needless to say I'm thrilled and likely the least sleep deprived new mom in the history of moms. He's eating about 45 ounces per day of milk and now weigh 16 lbs. - bigger than 100% of the kids his age. We've been keeping busy going out for lunch with friends and going for walks. Winter is in full force here, but the odd chinook still allows us out for a stroll now and again.
Kris is thoroughly enjoying his new job at Shell. He's working with quite a diverse group of guys and they seem to keep him smiling, which is nice.
The next few months will be very busy with Magnus' baptism in Brantford on November 14, a visit to Aunt Carrie and Uncle Curtis' in Victoria, BC the weekend after and then of course Christmas where we hope to be in Brantford, Florida and Saskatoon before the new year.
Busy, busy, busy but things have never been better.
Happy Halloween,
Ana
December 30, 2004 - Sick day at home...
The second to last day of the year finds the Olson family at home sick with colds. We must have overdone it during our Christmas break in Ontario, though I don't see how that's possible since we spent the whole time lounging around the house eating great Portuguese food, drinking, sleeping and basically avoiding the cold weather outside as much as possible!
We left Calgary on Dec 17 in time for the surprise appearance at my uncle mike's place for their annual Christmas party in Welland, Ontario. It was a great party, complete with gourmet food, cases of wine, keg of beer, oyster shucker, live rockabilly band, and AKAVIT! Now what more could you possibly ask for?
The following week was spent with Ana's folks in Brantford. They were delighted to have their little grandson with them, and we were delighted to take advantage of their babysitting services and go and see a couple movies. As usual the time went by much too fast but we did enjoy ourselves, including Magnus who was smiles the whole time, even after he picked up his little cold.
Next stop is Saskatoon this weekend. At the moment, we're not feeling too up for travel but we need to get Magnus over to see his grandma Olson, who hasn't seen him for two months!
Happy new year! And for those of you who haven't seen our Christmas letter, click here.
Kris, Ana, Magnus
January 22, 2005 - Saturday morning java
You've never seen anything as beautiful as your little baby smiling in his sleep. I fed Magnus an "early riser" bottle this morning, then he immediately fell back asleep and gave a grand, gummy smile after he nodded off. I couldn't go back to sleep after that because I started thinking about how lucky we are to have such a sweet, happy little baby and be settled back here in Canada with lots of visits to see family...something we have missed over the years. I was feeling very touchyfeely until I realized I have to go to work today...drat! We have one more week left of insanity on my project then we should have a little break from the overtime for a month or two at least. I don't mind working more now, since January is such a dull month anyway and the weather has been rotten - it just means I can take time off later! We have two trips planned for the year, the first is a long, long weekend getaway to Turks & Caicos during Easter and the second is a trip to the Azores in June or thereabouts. Ana is so anxious to get back to the Caribbean and become an "island girl" once again. Unfortunately, Magnus is only going as far as Ontario, he'll have the pleasure of grandparent attention (perhaps 'adoration' may be a more appropriate word?) for a few days while we are away. It will be tough to be away from him but I will seek solace in conch salads and many, many Kaliks! Mmmm, Kalik, I haven't had a Kalik in about three years, I am well overdue. I wonder if they will taste the same?
Before my thoughts go completely to sun, sailing and beer, I better do a quick update of Magnus' new tricks. He has recently:
1. Learned to sit up all by himself, but with the occasional carpet faceplant
2. Found his feet and learned to suck on his toes
3. Got a new car seat after outgrowing the old one
4. Received his second set of shots, and is now weighing in at over 22 pounds
5. Learned to pass things from hand to hand
6. Learned to hold his own bottle and drink from it (this one is hit and miss, he often just pulls it out of his mouth and stares at it, in stunned disbelief that his is actually feeding himself)
7. Realized that passing gas is really quite funny, and sometimes laughs after exploding
That's all for now, have to go wake up the rest of the family!
Kris
March 6, 2005 - Sunday arvo slowdown
Don't you hate when you awaken in the morning and your first thought is about work? That happened to me a few days this week as we're going through another busy spell, but that's the name of the game with project work. All part of the fun. Thankfully the week was broken up a bit when Carrie passed through town on Thursday and we saw her show down at the Ironwood. I then elected to work from home the next day....not because of a hangover thankfully, but I realized that I had no meetings that day and I can often get a hell of a lot more done at home.
What's new with the Olsons? The past few days have been gorgeous here in Calgary with temperatures in the mid teens, quite a treat in March. That obviously has us thinking a lot about the summer, but even more about our upcoming trip to the Turks & Caicos. The original plan was to dump the little guy off with grandma and grandpa but he seems to have talked his mommy into coming along with us. Quite amazing, considering he can't even talk yet.
Not sure what else to report, it's that time of the year when people keep a pretty low profile, don't go out too much and spend most of their time bitching about the weather or, this year, the lack of hockey. I just thought of one piece of news - Magnus' bald patch on his head is growing hair again, though we still need to do a "comb over" when he goes out on the town.
More news soon ( I promise the next entry will be much more interesting....it's been that kind of month)
Kris
I'm home alone tonight for the first time in a long time. Kris has a BIG go-live on his project this weekend and the fun starts tonight at 9:00 pm. So I just dropped him off at Shell and it looks like it will be Magnus and I tonight. As I was dropping him off he said that this is as close as an IT geek ever comes to seeing that "completed house"!!

Magnus is still a ray of sunshine, or is that a lightening bolt tearing apart our house. He has been crawling for about 2 weeks and stands while holding anything he can get his little paws on. It won't be long before he starts walking and then the real fun begins. He is still at 26 pounds and has only grown an inch or two since the last doctor visit, which is fine by me. I'm already running out of storage space for all the clothes he has grown out of.
I can't believe that it is already May. Where has this year gone. I'm now quickly facing the fact that I will be back at work in a few short months. We have a very busy few months ahead so I'm sure it will be here before I know it. This past month the weather has been wonderful and we've enjoyed several weekends in Alberta for a change. We did a driving trip up to Drayton Valley near Edmonton to see Kris' aunts who live there and grandparents who were there for a visit. It was a great trip.
I will be returning back to WestJet in September, but hopefully be able to work from home a few days a week. Kris is taking Fridays off to stay home with Magnus and the other 2 days he will be staying with his new nanny. Thankfully we have been able to find someone who we are very comfortable with. Her name is Maria and she is a 64 year old Portuguese lady....no it's not my Mom, but the next best thing here in Calgary. I met with Maria a few weeks ago and Magnus instantly went to her, so we are very lucky. Makes the sting of leaving him a little less.
Our summer plans are heating up quickly. Kris' annual fishing trip to Saskatchewan is in early June. I'll be in Brantford during that time. We will be back in Brantford for the annual Portuguese festival in mid June. July long weekend we are in Fishing Lake for the 50th anniversary of the Olson Cabin. It will be great to see the whole family there including the Pakistani contingent. Immediately after that we leave for the Azores for 2 weeks with my Mom and Dad, Peter and Loretta (Kris' Dad and Wife) and another Aunt and Uncle of mine. While we are there, we will attend my cousin Natercia's wedding and immediately upon returning will attend a party for my cousin Michelle and her fiancé Brad who are being married in Mexico in mid-July.
So it looks like we are free in August. That month will no doubt be recovery and mentally preparing for the working life ahead. The great thing about all of this is that we'll have many stories and tons of photos, so stay tuned!!
Ana
August 21, 2005 - Magnus' first day as a one year old
It's been a slow, lazy day after Magnus first birthday party last night. In fact, it's been a slow, lazy few weeks since returning from summer vacation. The trip to the Azores was superb and besides all the wine drinking and fish eating we managed to find time to scout out and purchase a nice piece of ocean front property. We also spend some time in Ontario and Saskatchewan visiting family and friends (thank god for WestJet flight privileges).
Ana will be returning to work in September after a glorious year at home nurturing this beautiful little boy. We're sure to be on an extremely busy schedule, though we're hoping it will be manageable. We've decided we better get a winter vacation booked to give us something to look forward to and ease the pain of the winter weather which will soon be upon us.
Magnus is well past his baby days and is now a busy, curious little boy that never stops moving, even when he's sleeping. He is now walking everywhere, eating on his own - no baby food anymore, clapping, dancing, making people "talk to the hand", and scaling large buildings in a single bound. He's widely known as a bruiser since he likes to hurl objects across the room and stick his fingers in peoples' eyes. Today he took a tumble off the deck and got some scrapes on his face, which makes him look even more menacing. He is a lot of fun now and we consider ourselves so lucky to have such a happy, healthy little boy to love and care for.
Getting a bit late now so better cut it off here.
Kris
October 12, 2005 - Home in Calgary
As fall sets in and winter looms, we are now well into our new routine.
I'm back to work full time (2 days from home) and Kris is thoroughly enjoying his Fridays off - Man's Day as he fondly calls them. He and Magnus do their bonding and I slug it out at WestJet. Magnus spends 2 days a week at Maria the daycare lady's house and loves it!! He even has a new 4 year old girlfriend named Lisa! Starting young!
The schedule hasn't been nearly as busy or hectic as we imagined. We still get a nice evening although the days are getting shorter and I find it is getting harder and harder to get up in the mornings.
Since our last journal we have been on a few adventures. Magnus and myself went to LA for a weekend with our good friend Emily. Loved LA and spend lots of time on the beach, shopping and people watching. That was a great time!! Kris had a boys weekend and went fishing with his friends Jon and Chris in the Crow's Nest Pass here in Alberta. No big fish, but they looked like they had a good time in the photos.
We've also went to Victoria for quick visit with Curt (Kris' brother) and then off to Saskatoon and Foam Lake this past weekend for Kris' cousin Isabel's Christening and Thanksgiving. It was great to have a really good visit with the Gustafson side of the family.
We have a trip to Brantford planned to see my family in the next few weeks. Then things shockingly get quiet with no trips on the horizon until a winter holiday to Jamaica in January.
Of course between now and then we have Halloween (Magnus will be a Bee this year), my 34th birthday (aahhhh!!!), Christmas and New Years. My parents will be spending 2 weeks at Christmas time with us, so that will be nice change. We have traveled every Christmas for the last 5 years, so it will be nice to wake up at home.
How the year has passed, only a few more months to go but hopefully lots of new adventures on the horizon.
More soon,
Ana
November 27, 2005 - Sunday morning coffee
Here I sit on Sunday morning, my favourite moment of the week when Mommy and Magnus are still sleeping and I'm halfway through my first cup of java listening to classical on the radio.
What to talk about? We watched War of the Worlds yesterday. What a show! Other than the nonsensical conclusion (I still have no idea how the aliens died), the movie was pretty good, especially the scenes with these giant tripod machines vapourizing everything in their paths. I couldn't help thinking during the movie how a tragedy like that immediately refocuses peoples perspective on what is important to them. We get so stuck in our routines of going to work to earn money, then spending that money, then going back to work to earn more, then spending more that we forget to ask "what's the point?" often enough. Isn't it sad that we are often so busy with busyness that we don't ask ourselves this question until something really bad happens? Ana and I have been concentrating a lot on our finances lately, trying to put a good plan in place now that will help us in the future. As we work on this plan and talk about investments, returns, earnings, expenses and all those other credits and debits we've often looked at each other and realized how lucky we've been in our lifetimes to have never had to live through real tough times. Even our parents generation haven't had to live through what our grandparents did. People born in the first decades of the 20th century lived through the great depression and two world wars. The great depression where people in this country had no jobs, no crops, limited health care and even starvation. Then the world wars came along where thousands of innocent people were killed. Can you imagine what living through these kinds of events does to people? When an 85 year old person today looks at how the younger people live this life of entitlement, instant gratification and total disposability of everything, how must they feel?
Eventually another depression will come around, at least this is what history suggests. What will happen then? Especially when people have so much of their wealth tied up in electronic assets that could practically disappear overnight and overpriced, overbuilt bungalows that cost a fortune to maintain. What assets and skills will have value if we go through a depression? I certainly don't know how to do anything useful like slaughter a cow or grow vegetables. We don't even have any land on which to plant a garden to grow food that would keep us alive! The business skills Ana and I have would be completely useless in an economic meltdown. It makes you change the way you look at the future when you consider this possibility.
Yikes, that's a little heavy for Sunday morning. On the bright side, after going through these planning processes together the one main thing we do agree on is that we want to be able to spend as much time as possible raising our kids and enjoying life with our families and friends. There is nothing more important than that.
Kris
February 10, 2006 - Man's day at home with Magnus
Time to break the news - there is another little Olson on the way! And the due date, as predicted by our first ultra sound yesterday, is August 20, which also happens to be Magnus' birthday, potentially making them exactly 2 years apart. We are overjoyed at the prospect of another ankle biter, though now it will be two against two instead of two against one. We're slowly losing the advantage, and like my friend Laurey says, you can't operate a secure facility with more prisoners than wardens.
Ana hasn't started showing yet but she does say her jeans are getting a little tighter at the waist. She has been getting a lot of morning sickness and hasn't been feeling too well, but hopefully that stage will pass soon.
Everything else is going very well thus far in 2006. We are planning on moving a house onto our lot at Fishing Lake this spring and using it as a vacation rental so if you are reading this and looking for a great and inexpensive place to spend a week this summer, check lifeisgrand frequently as we'll soon have pictures and rates available.
Just a short one for now, more soon.
Kris
March 25, 2006 - The SpillMaster
I was inspired by a recent email I received from my friend Johnny in New Zealand, who has a three year old as well as a brand new baby girl. It was a "Three Strikes" email - in other words, three episodes of naughtiness involving their son which made for a challenging day. As fate would have it, we had a "Multi Strike" day of our own yesterday. Read on....
Friday began as usual, both Magnus and I awakened by the jet engine scream of Ana's hairdryer, which for me wins the award for the most horrible sound in the world. We saw Mommy off to work in the normal fashion - me distracting Magnus with the toilet brush while Ana slipped out unnoticed, thereby avoiding a round of "don't leave Mommy!" tears. After a bit of frolicking around in the living room, we moved into the kitchen for my favourite part of the day - breakfast. I strapped Magnito into his high chair then made him a piece of toast with peanut butter, added some grapes to the side of the plate, then took a big chance and poured him half a glass of orange juice. I presented this to his Majesty on the highchair platter and returned to the toaster to create one of my "Marmite Delights" and make coffee. Upon my return, after first feeling a grape squish under my barefoot, I discovered that my delinquent son had scattered his grapes all over the floor, then poured half the orange juice on top of himself and the other half on top of the toast, creating some sort of peanut butter porridge concoction. Strike One.
After the cleanup, we went downstairs for our morning workout. I managed a weakly round of biceps and triceps; enough to keep my arms from turning into spaghetti, but hardly enough to keep me in good shape. Magnus started initially with ten reps of turning the power button on the stereo on and off, then followed that up with three solid sets of throwing dominoes around the room. He then did a focused round of emptying items out of the storage closet, including light bulbs, fishing rods and bottles of jam, and finished that one off with attempting to stick the pokey end of an umbrella through the gyprock. Becoming tired of the workout, he finished up with an actual set of chin-ups, with daddy providing some assistance from below. We then returned up stairs, where I turned on Dora the Explorer for him so I could get some work done. The television predictably edged child into an uninspired, zombie-like state, allowing me an hour of actual quiet to do some nasty old work stuff. During that time I went into a bit of a work induced trance myself and was snapped out of this by the sound of Magnus rifling through the refrigerator. I raced out to find him feverishly trying to knaw through a plastic bag of pepperoni sticks. "Oh, maybe he's hungry?" I thought, so I transported him, a pepperoni stick, and his sippie cup full of water onto the couch where he immediately and remarkably fell asleep. I returned to my work induced trance then later, at the sound of his stirrings, found that he was holding his sippie cup in such a way that it had entirely leaked out all over him and all over the leather couch. Strike Two (but mainly my fault!).
Soon after he awoke, my mom called. Magnus was busy running around the house pulling the registers out of the floor while I talked with mom and enjoyed my nice big hot mug of chicory coffee. Distracted by Magnus balancing precariously on the edge of the Ikea chair, pulling the DVD out of the player, I put my cup of coffee on the coffee table and went to rescue the kid and the player. As soon as I put him on the ground, he raced over to my coffee, picked it up, and dumped it on the carpet. "Mom, I have to go," I said, then went to search out some absorbent cloths as Magnus looked on smiling. Strike Three.
The best part of Friday Man-day is the field trip, which can range from a visit to the post office and record store, to an extended journey to a kid's play place, or sometimes just a walk along the river. This day, we walked/strolled over to the Blackfoot Diner - a circa 1950's old fashioned, greasy spoon restaurant, that must be seen to be believed. There, we met a few of the WestJet folks for lunch and admittedly, the child's behavior was exemplary - he sat there calmly dipping his chips in gravy, sharing my clubhouse sandwich, making eyes at the girls, and salting and peppering everybody's food for them. All was well until, at the end of the meal, he unexpectedly lunged across the table and spilled the pot of coffee cream all over the table, seats and people. Strike Four.
Back at home, the afternoon progressed rather smoothly, allowing me to do a bit of work, and him to redeem himself. But I was to soon learn that he was not redeeming at all; he was scheming....
Mommy arrived home around 5:00 to be greeted by her smiling, happy little boy, which must be the best part of any parent's day. Soon after that, our friend Ian and his little boy Jakob arrived with a nice bottle of wine to join us for supper. The boys had a lovely time running around, playing with toys, while we chatted in the living room. Before long, we heard a giant crash from the kitchen and raced out to find Magnus sitting on top of the table and the bottle wine exploded all over the floor, wasting all that sweet, precious vino. Strike Five.
After a lengthy cleanup, we were finally able to make supper, which was a simple pasta with meat sauce. We sat down, dished up the food, including a nice little plate for Magnus, as this was his first experience with spaghetti, and started to eat. It wasn't long before Magnus heaped a meaty, drippy load of sauce on his fork and flung it at Ana, splattering her and the nice white chair seat with staining red sauce. Strike Six.
The last strike of the night came shortly after dinner, as we were enjoying a nice cup of chai tea in the living room. A momentary lapse of attention allowed Magnus the opportunity to zip over to the table, grab Ana's chai, and dump it all over himself, the couch, and the floor, yet somehow managed to avoid burning himself. Strike Seven.
Surprisingly, as one gets used to living with a toddler, these events seem quite normal. It was only at the end of the day when we started actually counting the number of "incidents" that we realized this may have been a record setting day. All I can say is thank god for tile floors, cheap carpets and a good sense of humour!
It seems nearly impossible that my most recent posting was back in March, though I suppose that's an indication of how busy this year has been for us. What's been keeping us so occupied? Mainly, the process of buying, moving and repairing a large house in Saskatchewan. In addition to that, we've also decided to move to Ontario which has triggered a fair bit of administration. To be frank, it would seem that our website has not been a priority as of late, but I believe this will be changing very soon. Our "new life" in Ontario is giving us a chance to make some big changes in our lives, with our new focus being primarily on our expanding family (new baby due in two weeks!) and secondly on building up business and investment ventures for ourselves that will eventually provide a steady source of income. There's a series of books that have been extremely inspirational to us - they are called Rich Dad, Poor Dad, written by Robert Kiyosaki. The main focus of these books are illustrating how rich people and poor people behave differently with their employment, finances, investments, and expenditures. If you have never read Rich Dad, Poor Dad I would wholeheartedly recommend it. We have been applying the concepts in these books to our own situation and I can see that we are basically moving in the right direction. I've also been very lucky to spend so much time with my uncle Gerry here in Calgary, who is an investment and tax wizard. I've learned more from him about investments in a couple years than most people can hope to learn in a lifetime. I'm really going to miss that. But not as much as all the beers we drink together!
Okay, enough about finance, let's talk recreation! Both Ana and my last days of work are August 18th, perhaps sooner if the baby arrives ahead of schedule. Ana's folks will be arriving on Aug 25 and shortly after that we'll be heading off to Saskatchewan to show off our new baby and spend some time at the cabin at Fishing Lake. We are planning to put on a roof extension in September to create an outdoor living space complete with brick patio, barbeque and likely some sort of refrigeration device for keeping the brewskis cold. We are contracting out most of that work but have made sure to keep lots of smaller interior jobs for John, the window and door master, to do when he's there. We spend two weeks out there in July and worked our butts off so this time we're planning on spending a lot less time working and a lot more taking it easy and actually enjoying the fruits of our labours.
Stay tuned for more news.
Kris
September 17th, 2006 - The Best Kind of Sunday.....
...is the one where you don't have to go to work tomorrow morning!
Here I sit looking at my two beautiful children sleeping on the living room couches. Ana has gone shopping, the house is quiet and I have a perfect moment to tap out a quick journal entry. More than ever before, our website is living up to its name - Life Is Grand! We are a bit more than a week away from our move to Ontario and most of the packing is done so we actually looking forward to some free time this week. The last three weeks have been consumed by Stella's birth and our trip to Saskatchewan with Ana's folks to work on our new cabin. As usual, there ended up being a lot more work than we expected but happily the interior and exterior of the cabin is now 99% complete with just some landscaping remaining for next spring.
Stella has been a wonderful baby thus far, great sleeper, huge eater and body functions working at full capacity. I believe Magnus is through the denial stage and has now actually been paying some attention to his new sister. He's fond of jamming the soother in her mouth whether she wants it or not as well as feeding her and even giving her little kisses throughout the day. It was a great help having the in-laws here to help out with our new arrival, and was especially good for Magnus as he loves being around his granparents.
That's about it for now. Thanks to everybody who've sent us "congratulations" emails recently. We haven't replied to any of them yet but will get to that soon. I'll be posting new pictures on Stella's page frequently so please check back often.
Kris
October 25, 2006 - Mission Control is now the Borges basement...
We've gone and done it. Yep, Cowtown is now just a fantastic memory and we're living in Ontario without jobs or a house. It seems to be the way we do things, as soon as we're happily settled with friends and a great comfortable routine, we drop it all and head somewhere new. Maybe we're flaky, maybe we're just always looking for something new, at least we're never bored!
I'm into a whole new routine now. Since we have Ana's mom taking care of our kids all day long and Ana sleeping until 3 in the afternoon, and no internet connection, it's given me a lot of new found free time. When we first arrived I just played with the cat Tico for most of the day. After a couple weeks of that I was finally able to beat him in a race from the couch to the furnace room and back, but I usually had to sideswipe him into the bathroom door to knock him off balance. When the shine wore off that activity, I went down to Value Village and picked up some exercise videos. Now in the morning, after Ana's mom cooks me pancakes and bacon, I do the Richard Simmon's "Sweatin' to the Oldies" (volumes 1 and 2) for a while to get a good glisten going. I've picked up some cool moves off him too, it's amazing how relevant his dancing is even today. Napoleon Dynamite has nothing on me now. After that I usually skateboard down to the Taco Bell around lunch and have a couple bean burritos then come back home for a nap. After that, I pump it up once again, but the afternoon shift is the "Tae Bo" video with that bald guy. I get to feeling like a real bad ass after a few minutes of that so I normally end up kicking the cat around the basement practicing my new moves, poor Tico. By that time Ana is up and at 'em so we'll either go out for dinner and a movie or sometimes we'll stay home and spar in the basement so she can get her exercise, and at the same time give Tico a break from the shit kicking I deliver to him in the afternoon. So I guess you could say it's been a refreshing change from our hectic lifestyle in Calgary. I think our kids are doing pretty good, but I'm not really sure. I've tried showing Ana's mom how to use our digital camera so she can document their growth and development then report back to us on their progress, but she hasn't really got the hang of it yet so I'll keep training her. Ana's dad and I recently made 72 gallons of wine from fresh California and Canadian grapes so that's been saving me a bundle on booze. Because I like to stay sauced pretty much all day long, I'm able to drink the cheap wine instead of wasting money on beer and hard liquor. Since I've finally got the internet working, I'll probably take those savings and invest them in some online poker - I'm sure I can make a bundle.
That's our update for now. If anything interesting happens, we'll let you know.
November 29, 2006 - From the Corporate Headquarters of Grand Ventures Inc. (aka...the Borges Basement)
It's been a fun ride so far. We've got another four weeks to go until we get our new house and best of all, we're taking off to Florida next week for a little holiday! We have a cool beach house rented near Fort Myers and my old buddy Mike Schaaf will be joining us there for a couple days.
I've been quite busy getting a new company up and running. It's called Grand Ventures Inc. and the main component of it is a real estate investment company. Which means, I look for properties which I can buy below market price then either fix and sell or buy and hold for monthly cash flow and future gains. You're thinking, "oh yeah, just like those Flip this House tv shows". Well, not quite. Unfortunately those shows just concentrate on the renovation and resale parts. That's that easy stuff...the hard part is finding the great deals on properties in the first place. If you can't get a great deal on the property then there's no way you can make any money flipping it. Anyway, have a look at www.houses.grandventures.ca and let me know what you think.
Stella has been growing rapidly and is now getting quite pudgy, just like her big brother Magnus was. He, on the other hand, is getting long and lean, probably due to his non-stop galloping around the house knocking things over. They are both sleeping very well, which means we have been sleeping very well. It helps that we don't need to be up at 5:30 every morning getting ready for work. I wonder how long we can make this last?
We had a weekend trip to New York recently which was fantastic! We met my friend Ian and his girlfriend there. Him and I went to the Real Estate Wealth convention over the two days and the ladies (including Stella...Magnus was left at home with his grandparents for this trip..) went shopping all day long and thoroughly enjoyed it. We heard some amazing speakers at the conference and came away with plenty of new ideas - quite timely considering the business I'm in now. I didn't get to see too much of the city so we'll have to plan another trip there sometime soon to explore it properly.
Next up will be the annual Christmas letter...
Kris
February 6th, 2007 - From the new corporate headquarters in Paris, Ontario
I'm finally an uncle!!! Marty and Jen's little boy arrived on February 4th, just one day before Marty's 32nd birthday. He was named Leif Peter Olson and was a healthy 8 pounder. We can't wait to meet the little guy!
We are now all settled into our new house. It was built in less than 2 months and we are extremely happy with the builder and the finished product. The first big event we have planned to "break it in" will be Stella's baptism on Feb 25th. We are planning lunch for 43 as a way of stress testing the new digs. The style is a 4 level side split which means lots of livable space and lots of stairs. The whole family has been developing super sized calf and thigh muscles due to the extensive stair climbing, which is not a bad thing considering it's practically the only exercise we're getting these days. We've also realized that the size of this house no longer allows Ana and I to talk loudly to communicate when in different rooms. Now, we have to scream at maximum volume to garner attention.
Magnus is very happy with his new "Playboy Mansion" styled bedroom. In it, he has vaulted ceilings, a huge colour tv, surround sound, a race car bed, a beautiful view to the horse farm next door and, to top it all off, a red leather La-Z-Boy chair courtesy of his grandparents. The only signs of his existence now is the frequent screams of "MORE MILK" which vibrate from his quarters every half hour.
Stella is growing like a champ and has surpassed the 20 pound mark some weeks ago so is looking quite butterballish. She has been a star baby in all respects. The love of her life is her big brother Magnus, who ignores her completely but it doesn't seem to dampen her enthusiasm much.
As for Ana and I, we have been working hard on getting our new business up and running. We bought our second property yesterday, an interesting 4plex near downtown Brantford so this week we are doing our "due diligence" to ensure the property is up to standards. We are also showing one of the units in our first property to a potential tenant today. We actually take possession of that one on Friday so all hell will break loose then since John and I are planning to develop the attic space in the upper unit into living space so that will be the first full-on construction project. I've been focusing on networking with other real estate investors in the area as well as bankers, mortgage people, tradespeople, etc so it's all been a great learning experience and a lot of fun. That is the name of the game.
That's about it for now, adios.
Kris
April 30th, 2007 - Where has the year gone?
Hmmm, two journal entries so far this year and it's almost May. It seems that two kids and a new business keeps our days too occupied for much website work. I'm happy to say it's Monday morning and I didn't have to go off to somebody else's office this morning. It's true that I was up at 6:30 in the home office catching up on paperwork, emails, etc, but it's a whole different thing when it's for yourself on your own schedule. Do I sound happy? Yippee!
We've just finished a big renovation project on a property we bought and are now reselling. This is the first so called "buy and flip" property we've done so we're hoping it will sell fast. The project took almost exactly 4 weeks and it was a very busy 4 weeks at that. We have found that this type of project is all consuming and pretty much everything else in our life grinds to a halt during the renovation time. Now we've done the work and can now concentrate on the selling part and after that....well, it 's almost summer here so I'm hoping there will be some fishing and nice long walks in our near future.
As far as the summer goes, we're heading back to the Azores for two weeks which is sure to be a lot of fun. We're also planning a couple trips back to Saskatchewan as well as at least one trip out to see Marty, Jen and Leif and Ottawa. We also have plenty of exploring to do in and around our new home so it's shaping up to be a busy and fun summer.
I've just updated the site with a few new pics of the kiddies (here for Magnus, here for Stella). They are both doing great - Magnus is constantly on the move and Stella is just about starting to crawl. We're happy the weather is finally shaping up so we can spend more time outdoors with the kids instead of inside watching Toy Story 2 for the hundredth time.
Wow, this is a really boring update. By this point in the journal I've usually had some sort of comical inspiration but I just don't feel it today. I'll have to give my funnybone a workout and see what I can come up with. Come to think of it, I haven't written a story in a while, might have to do that this week. The last story I wrote was about some dance lessons I received in Suriname - click here for a story break.
Major news flash - Ana just called me upstairs to see Stella crawl across the room for the first time! Way to go Stellazinha!
That's it for now, gotta rush out to get one of those kiddie gates to put on the stairs..
Kris
July 1st, 2007 - Happy Canada Day!
One beautiful little happy girl, one handsome curious boy, one spectacular country. It's nice to reflect on life during holidays such as this. Ana and I have been so fortunate with everything we've done and a lot of this we owe to growing up in Canada. After living in so many different countries we have a good perspective on the differences between them and what constitutes a great country. Growing up in Canada gives you a great head start - an excellent and free education, safety, unparalleled natural beauty, freedom of speech and freedom and ease of mobility. It really is an easy and fun place to live and we are so happy to be back here to offer this gift to our kids. For me, after I had lived away from Canada for several years I never expected to return to live here permanently as I had built such a nice life for myself elsewhere. But once I met Ana and we decided to start a family, that changed everything. We couldn't imagine ourselves living away from "home" and raising children that would not grow up playing with their cousins, spending time with their grandparents and being spoiled by aunts and uncles. Yay Canada!
In other news, in two days we'll be sitting with our toes in the ocean drinking cheap beer on the wonderful island of San Miguel in the Azores. The best part about it is our old buddy Toddy Van Hees will be joining us there for a few days. He's sick of the crap weather in the UK so needs a nice sunshine break. One thing I've learned about meeting up with Todd - the place may change but the hangovers remain the same.
Last weekend we drove up to Ottawa to visit Marty, Jen and the big Leif. I haven't seen my nephew since he was a small raisin-like creature so I was surprised and happy to see a sturdy, tough little boy looking back at me. He's still a little young to start giving him gotchie pulls and the "pull my finger" trick but it won't be long.
That's it for now, here's to a great Canada Day and a superb summer.
Kris
September 8th, 2007 - A full summer, what next?
This has been one fantastic summer for us. To begin with, the summers in southern Ontario are long and very hot which makes for a perfect beer drinking and cigar smoking climate. I must admit, this is a welcome change from the summers in Calgary which, at times, were indistinguishable from the winters.
The biggest news of late is that Stella has taken to walking on her hind legs with enthusiasm. That gives us a grand total of three bipeds in the family since Magnus has reverted to galloping on all fours as his primary method of travel. She is still a bit wobbly but is getting stronger, faster, better each day. We also celebrated their 3rd and 1st birthdays a couple weeks ago which confirms our fears that Stella will probably never have her own single birthday party due to her parents wonderfully efficient family planning and general stinginess.
Our trip to the Azores was excellent, subject to a few incidents of severe toddler naughtiness. As we've been there a few times now, this trip wasn't a race to see as much as possible by driving all over the island. Instead, we had a lot of nice walks, beach days, lounging on the patio and going to family sponsored "events" which included vast quantities of food and alcohol. In fact, Ana's cousin Paul arranged for a nice beer tap and seemingly endless supplies of kegs. It was, in fact, a "traveling" beer machine as it made an appearance at every single family function we attended. One afternoon the great man Toddy Van Hees and I spent an entire afternoon on our back patio with the lovely beer machine and we all got well acquainted.
Every time we travel to the Azores we see more and more development. If I had unlimited resources I would be buying up property like mad there as I expect a huge increase in tourism dollars finding its way there. There are also a lot of foreigners moving to the Azores which is sure to put even more pressure on property values. This is quite unfortunate for the locals as there are not a lot of high paying jobs on the island so every day owning a home is further and further out of reach for most people. I am certain that sometime in the future, we will be spending a lot of time there as both Ana and I find it to be one of the loveliest places on the planet.
We spent the last long weekend of the summer with my brother Marty and his wife Jen in Ottawa for their son Leif's baptism. I had the privilege and honour of being chosen as Leif's godfather which I am very proud of. I hope to be a great spiritual mentor to him and also help out with getting his enemies "wacked" when required.
Ana was very fortunate to return to a job with WestJet after her year of maternity leave. She is working in the same department as before but now in a "casual" role where she's doing 12-15 hours per week from home. This particular job may only last until December, but at least that gives her some time to explore other options within the company (and keep our travel benefits!). She really has enjoyed her time there so I hope something works out for her to stay with them.
As far as me, I've been keeping busy with managing and improving the rental properties we've acquired as well as being on the hunt daily for great property deals. I've also been looking around for a new IT/consulting gig as I feel like I'm not quite ready to move away from that career which has treated me very well over the years. I think that we will be able to balance our business endeavors with employment, which gives us the best of both worlds - steady cashflow and our "own thing" which will eventually provide for some nice long sailing journeys.
Over and out.
Kris
October 22, 2007 - Monday morning
The dazzling autumn colours in southern Ontario are peaking making Paris an especially amazing place to be considering it is engulfed in mature old maple trees. The weather has been beautiful and we've been making the most of it. We planted two trees in our backyard last weekend; an apple and a plum, as well as a few shrubberies. The autumn clear out sales were on at the nurseries so we got an amazing deal on the trees, probably less than a third of what we would have paid in the spring.
Since the last journal entry I have found "gainful" employment with the city of Brantford (a 13 minute drive from Paris) as their JDE administrator. I had started looking around, mainly for shorter term consulting jobs but when this job came up I decided to apply for it. Thus far, I have really enjoyed it, and that's telling the truth! I think I've also realized what a terrible mistake I've made in the past with my approach to the working day. You see, I've typically had work days which begin at 7am and finish at 5:30 or 6pm. My new job is based on a 33.25 hour work week which translates into a 8:30 start, 4:30 finish and over an hour for lunch. Since I usually get up at 6, I have lots of precious "quiet and alone" time in the morning where I can do some business stuff, have a workout, do some reading, whatever. Though I have to go to work every day I honestly feel like I've had more spare time in the past 3 weeks than I have in the entire past year. Ana has been spending more time on our property business and holding up that end of things. One great part is that I work in downtown Brantford which is blocks away from all of our properties, making lunch an ideal time to go out and fix toilets, show apartments, collect rents, etc. All in, the change in routine is working out well for everybody, including the kids. We have them with a sitter for two half days a week which gives Ana time for spending focused on her WestJet job.
Since the last journal entry, we made a long weekend trip to Newfoundland which was most interesting. That reminds me, I need to get our digital pictures organized and put up a webpage for that (mental note). We found St. John's to be quite the city and not what we expected. It is beautifully lush and rich in lakes, streams, rivers, not quite matching the mental picture I had of rocky and desolate. We did a few day trips around St. John's including a coastal boat trip where we saw enormous fin whales, dolphins and puffins. The people were, as expected, extremely hospitable and friendly. Next time around we'll have to stay for longer and venture further into the province.
Off to work!
Kris
December 6th, 2007 - Chase the "Brown Eye"
Our first big snowfall arrived a few days ago, now the Jingle Bells, Winter Wonderland and odours of pine are in full swing. It certainly makes one anticipate Christmas much more when the ground is white - last year there wasn't a bit of snow until January so it made Christmas a bit anticlimatic.
The kiddies are very excited for Santa, especially Magnus. It seems that 3 must be the magic age where the concept of birthdays, Christmas and presents start to make sense because he sure gets it now. Our little boy is an incessant hummer and singer and Christmas has given him the opportunity to greatly expand his catalogue of tunes. His favourite now is Jingle Bells and he hums it almost constantly. He is also fond of removing all his clothes, dropping to all fours, and galloping around the house at rapid speeds which provides little Stella hours of rollicking fun playing "Chase the Brown Eye". As you can see, we have built in entertainment at home so we don't go out much.
My mom was in town for a few days while Ana breezed off to New York to meet up with her friend Alana for some well deserved away time. It was quite a learning experience as mom brought her cookbooks, pans and everything else required for a weekend of baking. We made heaps of goodies, even Christmas cookies which the kids got to decorate. We don't do much baking around here so it was a great treat and will provide plenty of snacks for the visitors we'll be having over Christmas. The "Eastern Canada Olson Christmas" will be happening at our place on January 29th, all Olson-ites welcome.
We did a short trip to Florida to meet up with my dad, brother Marty and families a couple weekends ago. I love Florida, mainly because you can get Bahamian Kalik beer there but also because it's always warm, everything works, prices are reasonable, and people are friendly. We were in the St. Petersburg area this time and since we enjoyed it so much we're going back for a full week in January.
I just remembered that it's time to crank out my annual Christmas letter....stay tuned.
Kris
January 22, 2008 - Madeira Beach, Florida, a balcony overlooking the Gulf of Mexico
I have the perfect life and challenge anybody to top it. Knowing that one's life and fortunes can turn on a dime, I'm not afraid to love my life, relish it, enjoy it, brag about it and be proud of it. Picture this. I just finished smoking a lovely Don Tomas maduro corona style cigar with a Kalik in my hand and Ritmo Latino playing on my computer, sitting on the balcony looking down on a perfect beach and a never ending ocean. Down below in the pool I can see my gorgeous wife ( a "10" by anybody's reckoning) and her lovely parents enjoying the sunshine. Inside sleeping are my precious children who are both beautiful and perfect and the loves of my life and who will grow up to be smart and wise and outstanding. We live in a great country and town and enjoy life every day with many more "ups" than "downs". Ana and I both work for excellent companies but at the same time are together building an excellent company of our own. We are healthy, happy, hopeful and have traveled more extensively than almost anybody we know. We count our blessing and feel fortunate and lucky each and every single day. I have two brothers and a brother-in-law who are my best friends, parents and "extended" parents I love and learn from and grandparents who have lived wonderful lives and are around to share their memories and experience with us and our children. I have more than thirty first cousins, each of which who are zany, goofy, successful and exceptionally fun to be around. We have friends that live all over the world who we love and see as often as possible. If anybody out there can beat this, please get in touch with me and we absolutely must meet up for a beer.
Kris
March 6, 2008 – Home, Dusty Home
The Canadian winter drags on. And on. Blah.
We are past the worst of it now but there's definitely no obvious spring in sight as we just got walloped with another 20 centimeters of snow with another 15 expected for the weekend. To make things worse I got an early morning phone call from two friends in Christchurch, New Zealand who are enjoying the beautiful summer there. I didn't tell them about the weather here – they are not the kind of guys who show sympathy for that sort of thing. Or anything, really.
We've been working madly to get some vacations in the pipeline but they keep getting thwarted for one reason or another. We do have a trip to Saskatoon planned for Easter which we're all looking forward to, especially Magnus. Every time we put his jacket on to go somewhere he says, "We're going to Grandma's now!" Sorry kid, just going grocery shopping again.
With the lack of a decent real estate project at the moment we decided instead to finish our basement, which has put our house in a constant state of dust, at least the basement area. We tendered out the whole job and Ana's parents quoted zero dollars, which seemed like a decent price so we hired them. I did pitch in by doing the electrical work, though you're never really sure if you've done a good job until you've connected everything to the panel. If nothing happens when you switch on the breaker, that's likely a good sign. If holes blow through the drywall, it's usually a bad sign. I should be ready to flip the switch Saturday morning and you can be sure I'll be wearing a welder's face shield just in case.
You may see some changes in the website soon as we are doing a makeover to spruce it up a bit. Ana is taking an interesting "Ebiz" course which has given her some new ideas to try out. You may have also noticed we're working on a book. The preliminary title now is "The Grand Adventure" and I've been having a wicked fun time writing it. I've developed a daily writing ritual that begins at 6 am and lasts until either 7 am or when Stella gets up, whichever comes first! It is going to be full of travel tips, but not the kind of tips you can find in any of the hundreds of guide books available (travel with a valid passport, drink bottled water, lock your door, la de da de da…BORING), they will be less obvious, more valuable and, best of all, wrapped up within the context of many travel stories. We're taking a much more personal approach to discussing travel, focusing on friendships, culture, personalities and even backpacker spirituality. It's a chance to relive and relate some of our most amazing experiences, many of which we've probably never told to anyone. We're hoping the book will be a fantastic addition to any traveler's library. Sign up for our distribution list and you will be the first to know when the book becomes available.
That's all the news for now, stay cozy.
Kris
April 21st, 2008 - Paradise Island, Bahamas
In the midst of the Canadian spring/summer turnaround we decided to take off on one last winter getaway - to Nassau, Bahamas. Unfortunately it was forecast to be in the low 20's in southern Ontario which robs us of the opportunity to enhance our tropical enjoyment by pitying the frozen folks at home. But on the bright side, we noticed on the news that Alberta and Saskatchewan were just hammered with a late winter blizzard which does lend us some smug comfort.
Nassau is a special place for us as it's where Ana and I met ten years ago. In fact, yesterday we took the kids for a walk over to Atlantis and went to the exact spot in the casino where we first met. It seems that much has changed since then, but many things have also stayed the same - our passion for travel, our love for life and many of our friendships from those days which remain intact. I had forgotten how incredible the Atlantis hotel is, from the amazing detail of the architecture to the abundant marine life which seems to be everywhere. It is certainly one of the most amazing man made creations in the Caribbean and not to be missed.
We found a great deal on an all-inclusive hotel called Paradise Island Harbour Resort. This is our first real experience with an all-inclusive place and we've been quite happy with it. The best part is not having to prepare any meals and surprisingly the food is pretty good. The only irritation thus far is the place is full of young college kids from Boston who are on some sort of school break now, and are taking full advantage of the underage drinking possibilities here. We can't complain too much since it wasn't that long ago when we were that age, though I can't remember my folks having enough money to send me off to a Bahamian resort for a week!
There has been quite a bit more development here since last time, but overall not that much seems to have changed. We're hoping to meet up with an old friend, Sheldon Johnson, while we're here which will be great. Sadly, we've lost touch with our other good Bahamian friend Ruthie which is sad as we would have been very happy to see her again.
I am quite sure that yesterday Stella had the best day of her life. She woke up at 8am in an incredibly good mood and bounded out of the door and raced down to the pool, waving her hands and hollering. She had a big breakfast then spent hours outside playing on the beach, dipping in the ocean. running around the pool and playing with her brother. She then dozed off on a patio lounger under the shade of a cabana and palm trees with a strong breeze keeping her cool. She slept for a full two hours then woke up smiling ready for more action. She ate a big lunch then hopped on my shoulders for a walk to Atlantis, where she was thrilled to see the sharks, fish and rays cruising around in the giant aquariums. Upon our return she had a huge supper, then another swim in the pool and stroll on the beach and returned to the room for a nice bath and an hour of Dora before nodding off for a full night sleep. A great day for the kids always means a great day for us.
The advantage of taking a winter vacation now is that we'll be heading back to the start of a lovely Ontario summer.
Well, better get down for breakfast!
Kris
July 17th, 2008 - Lunchtime at Work
Cold beer, hot days, pleasant nights, weekend trips, fresh fruit, bare feet, green grass. Summer in Ontario is full on and we've been loving it! Ana's mission is for us to visit somewhere interesting each and every weekend all summer and so far we're right on track. Upcoming trips will include Montreal this weekend, possibly my cousin's Jeff's wedding in Saskatoon after that, and then up to Mark's cabin near Kingston to meet Marty, Jen and Leif for the August long weekend. In August we have Ana's cousin Nancy's wedding in Vancouver and a couple other more local trips planned. It will be anything but boring.
By aunt and uncle Barb and Gerry were here visiting for ten days and we had lots of fun and plenty of laughs. My favourite phrase about uncle Gerry is, "the location may change but the jokes remain the same" – fortunately, they always make me laugh, especially the ones that come out after he's had three beers. The kids have been asking about uncle Gerry almost every day since he left – they got way too used to his constant attention with wrestling, throwing them around, singing songs, playing games, the best of which was "fetch uncle Gerry another cold beer". My dad was also in town for about a week and we all took a weekend trip to Bayfield on Lake Huron, which I think is our favourite region of Ontario so far.
I was back in Saskatchewan in June for the annual fishing trip which was loads of fun as usual. Marty made it back for this one too which was an extra bonus. We spent a lot of time on the trip talking about how much fun it's going to be when Magnus, Leif and Stella can join us, it will definitely add a whole new dimension to the trip. The main change is we'll probably have to switch to hard liquor because there will be no room for kids and 16 cases of beer in the boat. Then again, I suppose the kids could be towed on a raft or something.
Magnus will be starting junior kindergarten at a French immersion school in September and he's very excited about it. It will be a sad day for Stella, though, when her best buddy starts being away from her for a whole day at a time - they really are the best of friends and have great fun together.
We have had some sad news recently - a dear friend of the family, Grace, succumbed to cancer after a long battle. She was one of the kindest and most generous people I have ever had the pleasure of knowing. Tragically, her husband was killed a few years ago in a tragic car accident, leaving their two daughters parentless. Thankfully they are both extremely mature, strong, independent and capable which they will definitely need to get through this. We hope to be able to support them in whatever way we can as they have been through a terrible time.
Time to sign off.
Kris
September 7th, 2008 - A Rainy Sunday
I love port wine but it does tend to leave a bit of a sting the next day. Our compadres Arthur and Rosa were over last night for a big steak barbeque - it was our first visit practically all summer as we've all been so busy with weekend trips. We followed up the big meal with a solid hour in the hot tub and a few glasses of port. The only way Rose could convince Arthur to leave was promises of bacon the following morning, which I'm sure helped with the unavoidable hangover.
Mom was in town last week for a visit and we took her to Grand Bend, which seems to have become our favourite summer hang-out. The weather was excellent for her visit and she spent a lot of time with the kids. After here she went to Ottawa to spend a few days with the Leifmeister.
We had an excellent weekend trip to Vancouver for Ana's cousin Nancy's wedding a few weeks ago. We lucked out with sunny weather which is clearly quite unusual for that place. We managed to meet up with Mark and Linda for a coffee in the morning before the wedding then I slipped away during the reception to sneak a quick pint with the old fellah, which was quite easy as they just live around the block from the hotel. We started planning for the upcoming Bassmaster fishing tourney up at his cabin near Kingston.
It's been a very gratifying summer for us, we've been on loads of trips and seen a lot more of southern Ontario, which was our goal for the year.
For some reason the words aren't coming too fast today so I better wrap it up here before this gets really boring...
Kris
October 20, 2008 - Post election ramblings
So is everybody happy that the election is over and you don't have to see those wanker party leaders trashing each other on the news every night? Ana and I really paid close attention to this election, especially the issues related to where we live, which are mainly aboriginal land claims and manufacturing. We were happy that the Conservative guy in our riding won as we felt it was time for a fresh face, especially one that was part of the ruling party which will hopefully attract greater attention to our issues.
I must say that I was quite disgusted with the "vote anything but Conservative" that was promoted by a number of groups, such as the vote swapping websites and even the premier of Newfoundland! I was also shocked to hear Elizabeth May say that it might be better for Green party supporters to vote Liberal in some ridings. What?? The whole event seemed very negative to me. It seems to me that when we vote we should be voting for the person and party who we think will do the best job and move Canada in the direction that we agree with. It's easy to shoot down ideas and trash peoples' reputations but a whole lot harder to devise and sell policies that are good compromises and not impossible to implement. Contrary to popular belief, I think Elizabeth May and the Greens did a terrible job at the debates; instead of showcasing their good ideas and drumming support for her candidates all she did was join the others in bashing Harper. I am not a member of any particular party so I just vote for whichever party has the best leader and from everything I saw there was only one leader sitting around that table. Don't forget, you're not voting for the guy you'd most like to have a beer with, if you did then everybody who could would have voted for Duceppe; instead you vote for the best able to lead. That's what I did. When the next election comes around, I'll once again look at the options and make up my mind then. It certainly seems the economy is in for a bollocking so we'll see how well this government does handles the country during difficult times.
Wow, bet you didn't know this was a political blog!
Kris
January 12, 2009 - Monday Morning
On to a fresh new year. We had a nice time over Christmas and succeeded in planning "one major event" per day which pretty much always included lots of food and booze. I didn't take any extra days off over Christmas as I am quite busy at work due to year end activities, but we are going away to Dominican Republic in a couple weeks which will be a nice holiday. We lived there back in 2001and haven't been back since so it will be interesting to see the changes. Actually, we probably won't see much as we're staying at an all-inclusive in Punta Cana on the east coast of the country. We don't normally do all-inclusive resorts but after our beautiful, relaxing stay at the all-inclusive in Bahamas last year we decided that was exactly what we needed this time around.
We look forward to another busy and productive year. We have quite a few other trips in mind so with luck we'll be able to continue traveling as often as ever, exploring our country and the world with kiddies always in tow!
Kris
February 1st, 2009 - Flying home from Calgary
Ah, another Olson family power weekend. As I type, Ana, Magnito and Stella are all snoozing wildly in their leather WestJet chairs enjoying the hum of the 737 engines. Ana was in Calgary last week for training so the kids and I flew out on Thursday night to meet her and spend the weekend in Calgary catching up with old friends including brunch at our favourite restaurant in Inglewood and a great dinner party on Saturday. We spent Friday with the Davidsons - Gerry, Barb and Nicole and had a great visit, which included the obligatory and much loved finance/investing session with uncle Gerry. I am always amazed at the depth of his knowledge of all things financial, especially impressive for a weenie engineer. We of course discussed the current market meltdown and the abundance of opportunities presenting themselves in the markets. It seems like a simple decision to up the stakes in financial investments and cash in on the amazing yields available. But hold on. I'm also in the midst of reading Garth Turner's latest (see www.garth.ca) book called "After The Crash". Though an awful lot of the book is simple reiteration of his last book, "Greater Fool", there are nevertheless some interesting viewpoints presented. The basic thesis is that the world's financial systems are in a mess, the value of residential real estate in Canada is destined to plummet much further and the possibility of a major depression and deflation, though not inevitable, is real and significant and the overriding majority of Canadians are ill prepared to weather such an unwelcome storm.
I don't believe that we are headed into a depression, but many of the ideas in the book strike a chord with me. The one basic recommendation is to hope for the best but be absolutely prepared for the worst. In recent years I've found myself becoming more risk averse and much more concerned with safety and self preservation. I don't know if this is due to the aging process or perhaps having the responsibility to protect and take care of my family, or maybe simply because of the large number of close calls, near misses, death defying stunts, and amazing acts of irresponsibility experienced during my bachelor days. A couple simple things he recommends is having a backup generator for your home in case of a major power outage (which just happened in Toronto a couple weeks ago that left people without power for two days in -20 weather), having an emergency food supply available and having a "Bad Day Kit" prepared which includes items such as batteries, water purifying tablets, cash, etc. Best to prepare well before it's necessary.
In other news, after a year and a half of aggravation and stress, our worst tenant finally moved out. This is the guy we've been to tribunal court with twice for late payment of rent and selling drugs out of our building. He has caused us more grief than anything else in our lives and his departure is like a blessing. We now have a month to renovate his unit which will take a lot of work considering he's been chain smoking in there for six years. Like anything else, persistence has paid off but it's been a real test of patience and we've even considered selling the building several times because of him. In one regard, though, I'm happy we went through it because we now know the Ontario Landlord/Tenant law like the back of our hand, which will definitely help us in our future dealings.
One last bit of news, we spent a week in Dominican Republic with Dad and Loretta and loved it. We stayed at an all-inclusive resort at Punta Cana for the entire time. The kids spent 90% of the time in the pool, which meant we spent 90% of the time in the pool; fortunately there was a swim up bar so that helped lubricate the swimming lessons.
All for now, back to the renovations!
Kris