Iceland is not the first place people think of when planning a vacation. Those people don't know what they are missing!! Iceland is definitely different....everything from the language to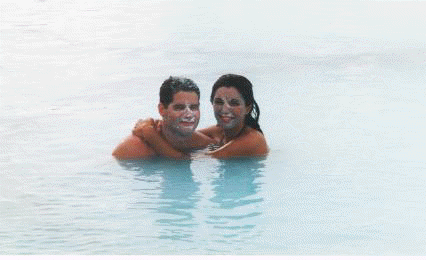 the landscape.

The Climate

Ok, we aren't going to lie...it's cold!! We went in early September and the days were about +5 degrees C to +10 degrees C. But with a good jacket, we walked around without feeling it too much. There summer is quite short, from May to August, and the hottest it gets is about +20 degrees C.

The Money
Bring Lots!!! We can't say that enough. Iceland is not cheap. Hostels run about $60 US for a private room, shared bath. Buying food at the grocery store is the most economical way of eating there. How expensive are restaurant? 1 beer, 1 coke and a medium pizza at a casual pizzera cost about $50 US! Beer is about $10-12. So save up, you will need it!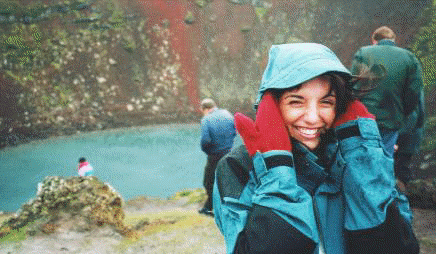 The People
The people of Iceland are not quite what we expected. I was worried about having to deal with everyone being 6 foot, blonde and beautiful. Lucky, they aren't. Don't get me wrong, there are a few of those, both male and female, but there are also lots of short brunettes as well. The people are generally friendly and if asked, will do their best to help. They are highly educated people. Most people have a university degree and also speak excellent English.

They are definitely social people. In the evenings the restaurants and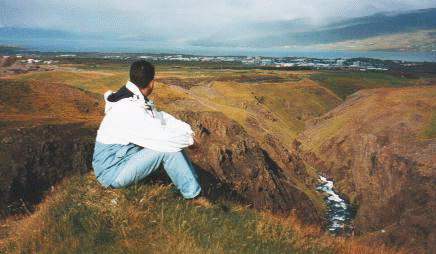 bars are full. They are also big travelers. Many Icelanders we met had been to many parts of the world. But since there is so few Icelanders in the country (approx. 350,000) you don't often bump into them traveling.
Reykjavik

We spent most of our time in Reykjavik the nation's capital. Reykjavik is beautiful and clean. The city is close to the ocean and has everything you expect from a cosmopolitan city. The main street has many nice shops and restaurants and at night it turns pretty wild. They have a great nightlife, with pubs and nightclubs on every corner of the main street. We are still bewildered as to how they afforded to party so much with the $12 beers! Needless to say that we didn't do a whole lot of drinking. We only went to one nightclub and it was not in Reykjavik, but we were told that cold or no cold the dress code is skimpy.

The landscape around Reykjavik is very different, in fact all over the country the vegetation is bizarre. They have very few trees and the ground is very flat, but with huge rocks covered in what looks like moss. These are lava rocks everywhere which are a result of Iceland's volcanic activity. Iceland is often studied because it has so much volcanic activity. One of the youngest islands in the world is a few kilometres off the coast of Iceland called Surtsey. It was formed in the 1960's as a result of an underwater volcanic eruption. Of course the Icelanders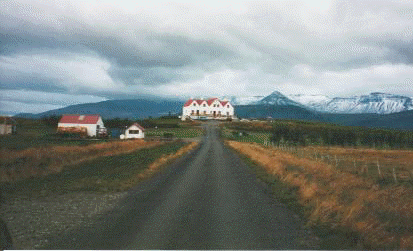 take advantage of this volcanic activity using the hot water to heat their homes. As well there is a hot springs park near Reykjavik called Blue Lagoon (see photo). The hot springs are enormous and beautiful. They say that they have medicinal powers and that the sand from the bottom is good for your skin.

Another great spot to check out in Reykjavik is the University of Reykjavik Library. They have a small museum on the main floor with pages from the the original Icelandic Sagas. It was very interesting. As well if you are in that neighbourhood, stop at the University of Reykjavik store and pick up a University of Reykjavik t-shirt!

Akureyri

Akureyri is a town on the northern coast and it sits at the base of a fjord. It is a 5 hour bus ride from the capital. The scenery is beautiful so bring your camera. Akureyri is a very nice town and is commonly visited by backpackers. They have quite a few hostels which are clean and nice although not cheap. They also have a few good bars and 2 movie theatres. The highlight of this town for me was their community pool. It is at the top of the a big hill in town, but worth the walk. It is an outdoor facility, but all the pools are heated. They have two large ones and about 5 small hot tubs each with a different water temperature. They also have a great sauna and steam room. The entrance fee is nominal by Iceland rates. You will generally find these pools in every town as it is a big part of Icelandic culture to spend time at the hot pool with family and friends.

Borgarness
On our way back from Akureyri we stopped for a few days in Borgarness. It is quite a small town with not much to do. The restaurants are limited. But we did try the restaurant inside the only hotel in town which set us back $18 for a ham and cheese sandwich. It's not recommended. The cheapest place to eat was the Shell Gas station. They have a little restaurant and it was economical.

The best thing about Borgarness was the hostel we stayed in. It was called the Golfklubbur Borgarness and is situated on a golf course about three kilometers from town. They have beautiful cabin-like rooms on the top floor of this large house and on the bottom floor a small TV area and a bar!!! It was nominated one the best hostels in the world in the Lonely Planet guide, and we agree. No doubt the owners have something to do with that nomination. Inga Lara Bragadottir and her husband are the owners and are the best hosts one could ask for!!