Boston was the location for the second reunion of the Bahamas gang. We met for three days and spent time in Boston itself, some small suburb north of Boston, and Cape Cod. It was great to catch up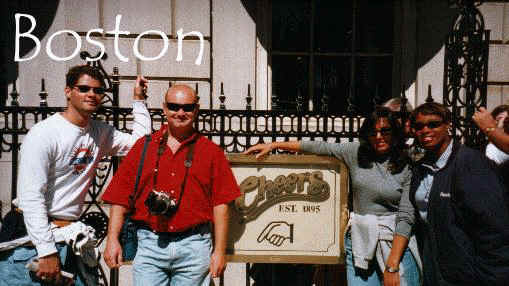 again and drink a few pints! Highlights of the trip included beers at the Samuel Adams pub, a wonderful walk through a cemetery, and the drive to Cape Cod. At the moment we are very excited as next weekend in Belize will be our third reunion of the Bahamas gang, or at least a portion of the Bahamas gang because the two Brits are back in England singing football songs now.
We really didn't see enough to make any useful suggestions though we did do the Duck Boat tour which, I must admit, was pretty good. The Duck Tour is the most touristy thing in Boston - it is a tour around the city and through the river in an army type vehicle which turns into a boat and has some kind of historical significance which I can't quite remember. At the time they were doing a lot of contruction work in the city and the streets were a mess but I am sure it will be very nice when it is done. One interesting thing about Boston was the weird accent. How come people on Cheers don't talk like that?