Our original plan was to spend at least a month in Bolivia as practically very person we had met who had visited Bolivia had loved it, and some even said it was the best country in South America.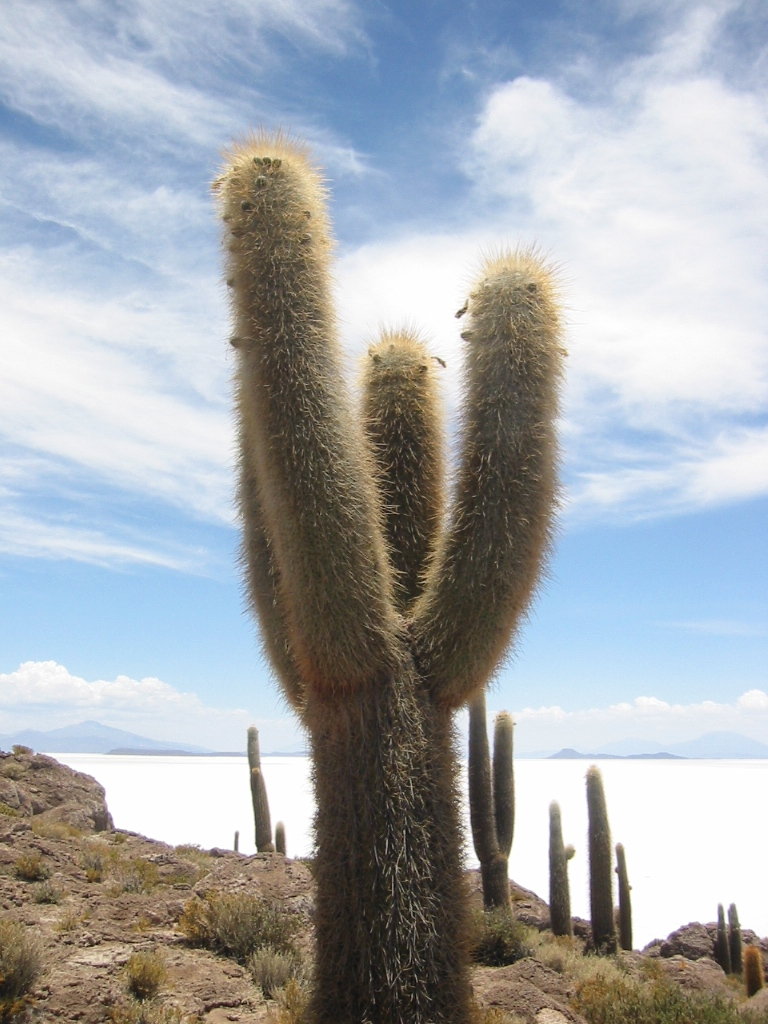 Well, what the hell did we miss? Besides the extraordinary trip we took through the Uyuni region in the south, we found the people cold, the places filthy and the food forgettable. It just goes to show that you can't take anybody word for anything...including ours! A person has to see a place with their own eyes so they can make their own judgment. We have found again and again that every person has a different experience and sees and feels things in their own way. This is especially important to remember when reading travel books...it is only one person's opinion!
The People
We met a few nice people along the way but for the most part the Bolivians we met were not overly friendly or helpful. Which really shocked us as we have met Bolivian people in other countries and have always found them to be extremely friendly and nice. It was one of the few places in South America where we had problems with people trying to cheat us on prices.
Things to Know
The currency used is called Bolivianos and we found prices to be quite cheap. For example, we stayed in a great hotel in La Paz and paid around twenty US per night. The backpacker places were likely a lot cheaper than that but it was worth it paying more to stay in a decent, safe hotel.
To us, Bolivia appeared much poorer than any of the surrounding countries - desolate treeless countryside, more beggars, more garbage and a lot more rough looking people.
Where to Stay
The prices of hotels seems to vary quite a bit depending on location. For example, we paid about five dollars a night for a decent hotel in the border town of Copacabana. A week later we were stung for forty-five dollars for a similar quality hotel in this disgusting town called Oruro. We didn't really stay at any backpacker places because we just didn't come across any in the safe looking areas. And our ex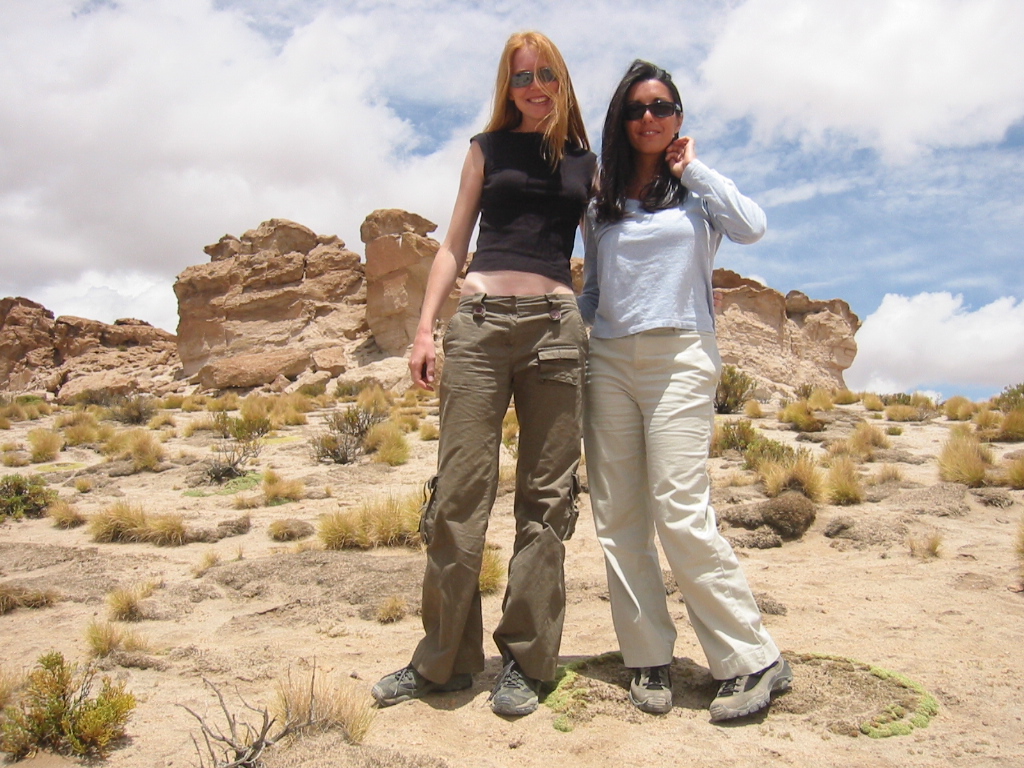 periences in South America have almost consistency shown that hotels don't cost much more, if any, and are almost always better and safer. One thing to consider is that it is usually better to book ahead or even to get a cabbie or a tourist company to take you to a hotel as the walk up rates are always very high and they normally won't bargain.
Where to Eat
Without exception, the food we ate in Bolivia was forgettable. I had one meal of llama that was quite nice, but this was from one of the fancy restaurants in one of the better hotels in La Paz. I'm afraid you are on your own for this one!
Things to See and Do
We spent a total of about ten days in Bolivia and the highlight was definitely the Uyuni tour in the south of Bolivia. We did not go to any of the areas north of Bolivia but it is possible to do tours of the jungle which are likely quite nice. Since we had already visited the jungles of Suriname we were quite sure we weren't going to see anything new so we skipped it.
The City of La Paz
I will always remember the drive to La Paz. We took a bus from the town of Copacabana, which is on the shores of Lake Titicaca in the west of the country. We drove through miles and miles of eroded, lifeless plains, occasionally passing through brown dirty villages, identical in almost every depressing way including old Bolivian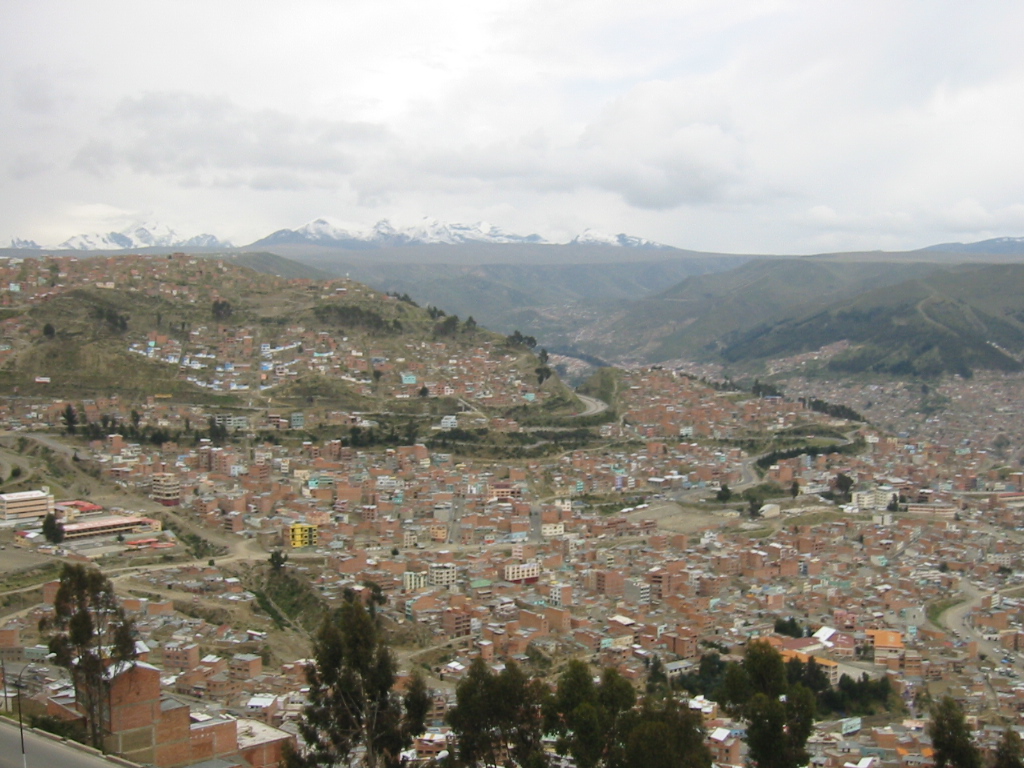 men relieving themselves on the half-finished dirty dwellings lined up beside the highway. Eventually the villages became more and more frequent until it merged into a continuous blur of brownness and poverty. We drove through this huge slum for ages and just as I was giving up hope of ever arriving, we passed over a hill and to the right side of the bus a huge valley opened up far below us, and this valley contained La Paz. It was an impressive sight, not least because of the high altitude of the city which is nearly five thousand metres! We then drove down a long circular highway which eventually looped its way into the city. Upon arrival, it appeared much like any other South American city...noisy, dirty, and polluted - and plenty of activity. The most interesting part of the city for us was the market area, especially the witch markets where they sold magic charms, dried llama fetuses, and strange smelling evil herbs. There were also many shops which sold musical instruments made in Bolivia. I bought a charango, which is a ten stringed instrument which looks somewhat like a mandolin.
Copacabana town and the Isla del Sol
If you travel to Bolivia overland from Peru, Copacabana will likely be your first stop as it is just across the border and a nice place to take a break. The town itself is quite small but has a lively main street with lots of restaurants, cafes and bars. Don't expect anything too flash, they are just basic little places but quite nice compared with what you will find in most other towns. We broke our rule and stayed at the hotel where the bus dropped us off. Normally a bad idea, but this time we were pleasantly surprised at the quality of the place. We also went on the half day trip to the Isla del Sol, which is the supposed original birthplace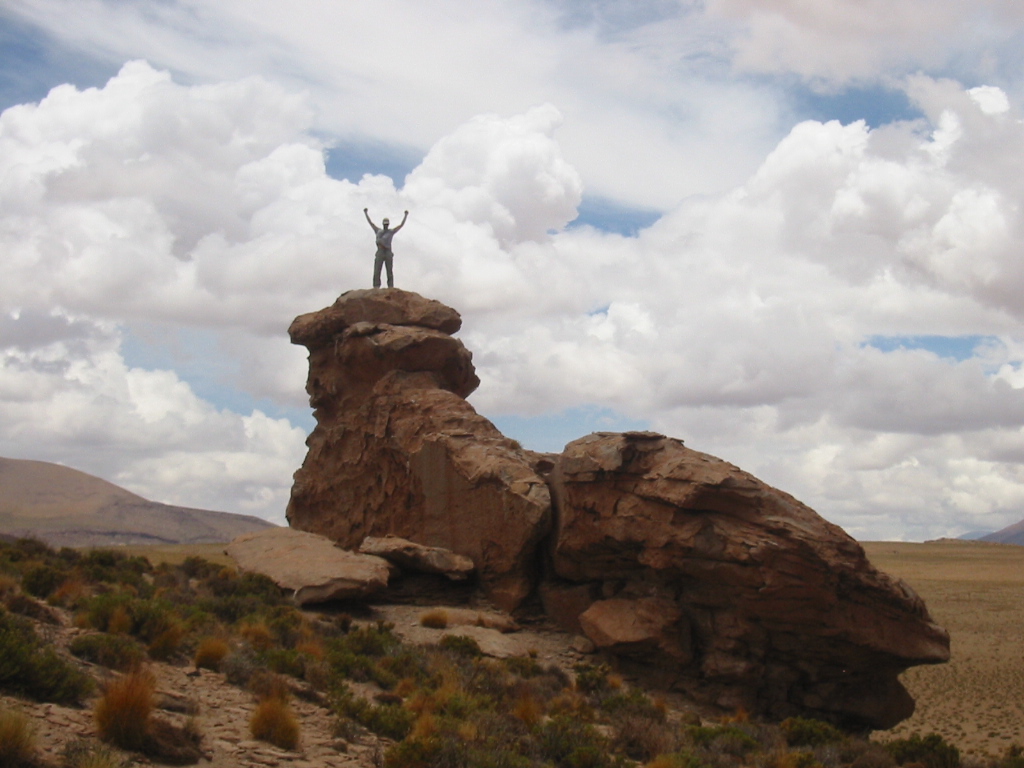 of the first Incas. We got on the ferry with a hundred other tourists and spent about 90 minutes getting to the island. The ride was quite pleasant but as we were getting off the ferry, one of the workers told us we had only 45 minutes to look around then had to be back at the boat to leave for the mainland! That gave us enough time to walk up this old Inca staircase, snap a quick picture of the view, then walk back down and have a warm beer. Needless to say, we didn't see much of the island. If you really want to see the island, skip this tour and do a proper two day tour.
The Uyuni Tour
This tour really made our trip to Bolivia worthwhile as we saw some sights that you will surely not see anywhere else in the world. And the price was unbelievably low. For four days with all food (not too bad) and accommodation (from fair to horrific) included we paid around seventy US dollars each. The packages are sold at most travel agencies in La Paz - the one we went with was called Colque Tours.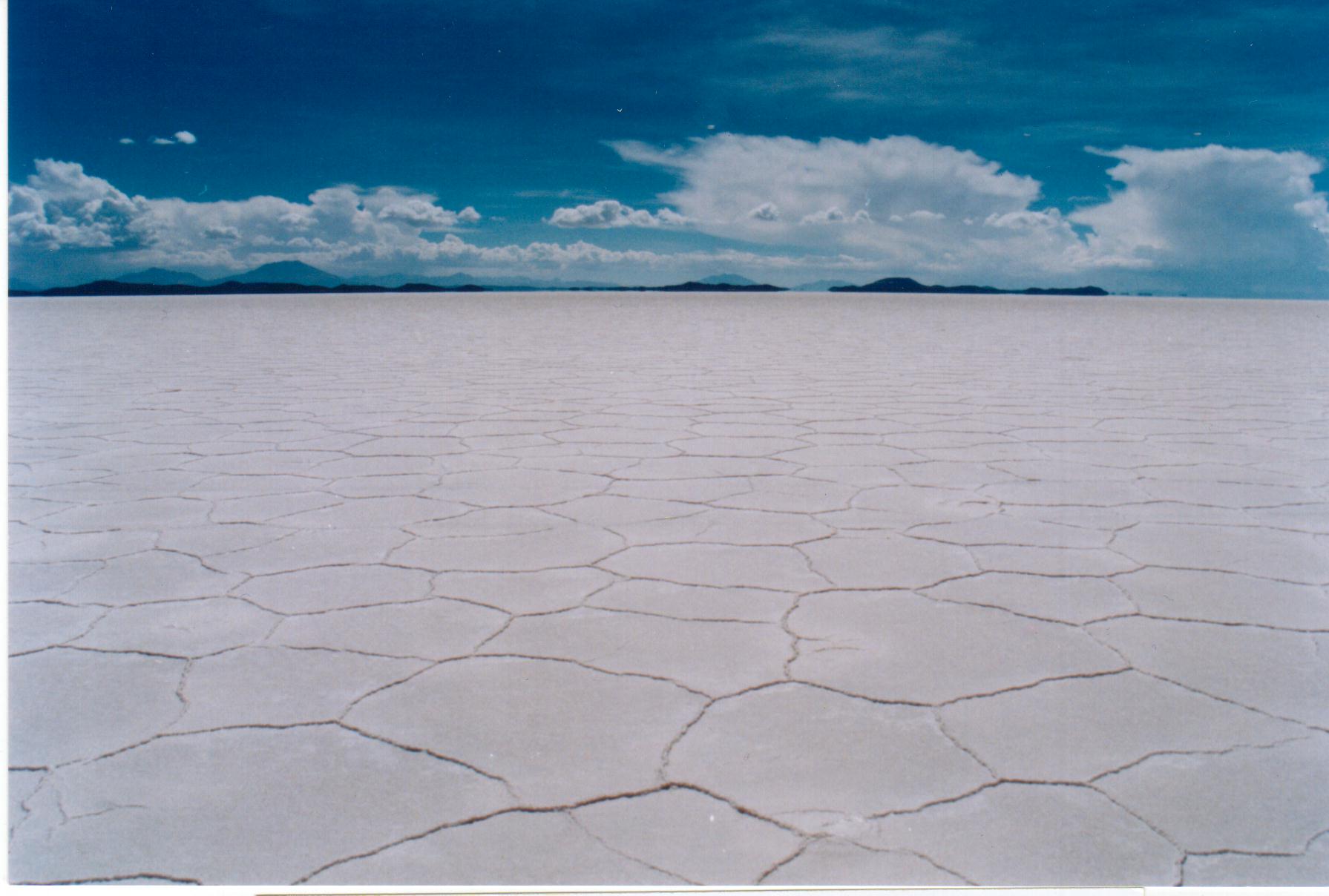 To actually get to Uyuni, which is the starting point for the tour, you need to take a bus from La Paz to Oruro then a train from there to Uyuni. You report to the tourist office and are then introduced to your driver/cook/guide and the vehicle he will be carrying you around in. I don't want to tell you too much but some of the sights you see include a giant dried out salt lake with an island in the middle which is full of huge cactuses, flocks of flamingos, natural hot springs and geysers, volcanoes, and a giant mountain of 'botox'! By the end of the trip everybody is exhausted, dirty, sleep deprived, and ready to get somewhere clean. I wrote a little story about our Uyuni trip that you may want to read when you have a few moments. It was quite an adventure!
| | |
| --- | --- |
| | |
| | |
| | |
| | |
| | |
| | |