The nine islands of the Azores are not just some of the most beautiful islands in the world, they are also the birthplace of Ana's parents John & Maria!!
The Azores are a relatively unknown tourist destination, likely due to their isolated location in the middle of the Atlantic. This is sure to change in the future as these beautiful islands offer an incredible variety of things to do and see. The attractions range from volcanoes and hot springs to delicious and cheap food and wine.
We have done several trips to the Azores in both summer and winter from 2005 to as recently as 2012, for a daily rundown of those trips and a bunch more pictures have a look at our blog. Click here to read our 2005 Trip guide.
Geography

The Azores are a set of nine volcanic islands located approximately in the middle of th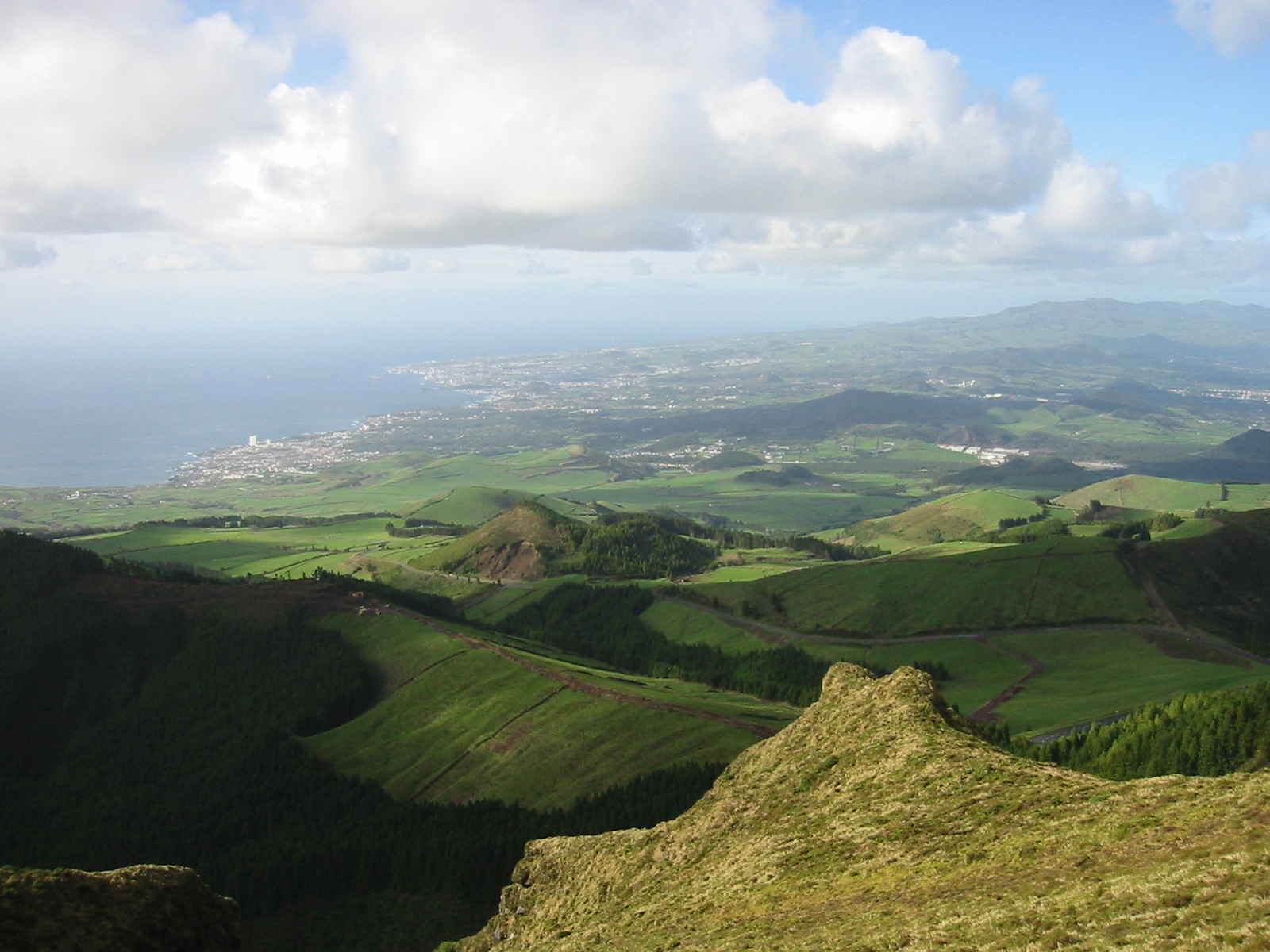 e Atlantic ocean, south of Iceland and north of the Canary Islands and Madeira. The largest and most populated island is San Miguel and the smallest is Corvo with a population of 400 people. The capital city Ponta Delgada is located on San Miguel and is home to about half of the Azorean population.
Where to Stay

If you are a Portuguese Canadian or American you likely have relatives in the Azores so stay with them! For the rest of you who are "pure" tourists, you have a few places to choose from. We visited three islands - San Miguel, Pico, and Faial and got the impression that the selection of places to stay is really not that great. Most of the places we saw were mid range hotels, but there did not seem to be a good selection of bed and breakfasts or country inns. The one place we did find and can recommend is a beautiful coastal inn in Pico called Aldeje da Fonte.
The Climate

The climate in the Azores is wonderfully mild though can be rainy and windy at times. The average January temperature is around 15C and the average temperate for July is around 22C. With these temperatures the islands are green all year round and very pleasant.
The Money

As of January 1, 2002, the official currency for Portugal and the Azores is the Euro which replaces the old currency Escudos. The exchange rate is 200 Escudos per Euro.
Places to Eat
The best option is to eat at your aunt and uncle's house. If you don't have an aunt or uncle perhaps you could quickly make some Azorean friends and invite yourself over to their place for meals. Failing that...there aren't too many options. For many years the Azores has been quite a poor place and therefore there is not much of a "eating out" culture. The places you will normally find are cafeteria-type lunch venues which serve decent local food at very low prices. As well, the Especial beers are extremely cheap at these places with a half litre of brew setting you back only 1 Euro. It was quite surprising to us walking around in the centre of Ponta Delgada and finding hardly any restaurants. There a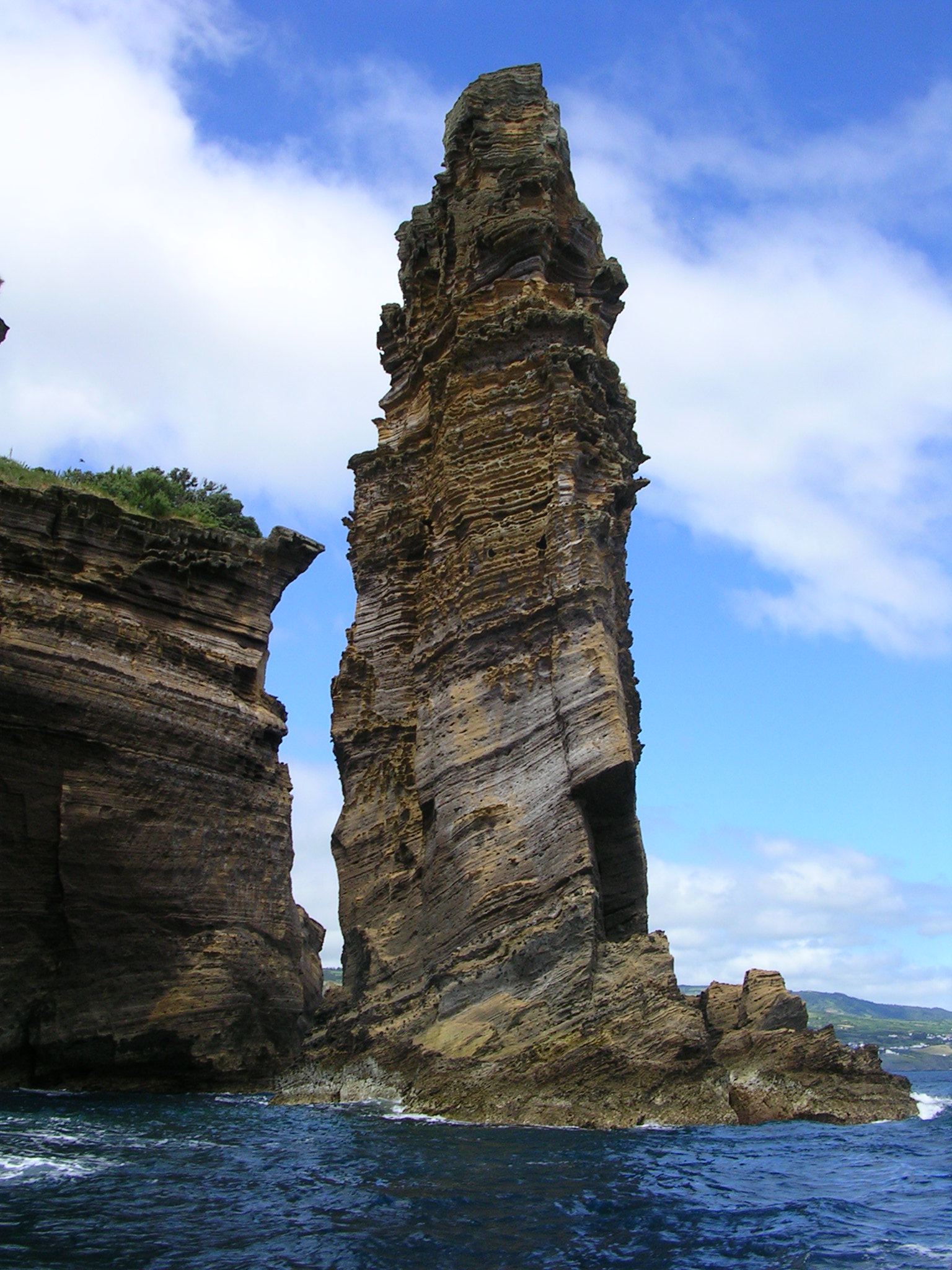 re plenty of shops and it really feels like a small, modern European city...except for the lack of restaurants.
Things to Do on the Islands
Since we only visited three of the islands, I'll discuss each of them in turn as they are all quite different from each other and offer different things to do. The common thread which you will notice in every part of the Azores you explore is that they LOVE TO SMOKE. I have never seen a place where so many people smoke. By my estimates, the percentage who are smokers by age/gender group are the following:
Adult men >16 years of age = 100%
Adult women >16 years of age = 100%
Children <16 years of age = 80%
May not be quite that bad, but it really shocked me. That is pretty much the only complaint I have about the whole country. But if you are a smoker...hey, go for it!
San Miguel
This is the largest and most populated island of the Azores containing more than half of all inhabitants. There is an amazing range of things to do and see in San Miguel and is likely a tourist's first stop since there are a much better selection of accommodation and restaurants here than the other islands. We rented a car and did a fair bit of exploring around the island, though we were far from seeing everything there was to see. Here are some of the places we visited:
Ponta Delgada
This is the capital city of the Azores and is home to half the residents of San Miguel. It is a lovely European city with cobbled streets, interesting architecture, a large harbour and a beautiful boardwalk along the sea. There are plenty of shops and even a modern, enclosed shopping mall. It is a great city for strolling around as it is very safe and easy to navigate. The one thing conspicuously absent are the American fast food chains. That's right, no McDonalds, no KFC, and no Burger King. Now how many European cities, nay, cities anywhere can make that claim?
Furnas
On the eastern side of the island you'll find these these popular hot springs. There is a central park which has bubbling pools of various temperatures, a warm river, and some crazy gurgling mud holes that emit a sulpher stink that hurts your nose (but must be good for you!). Nearby this park is another one which has a huge hot pool for bathing. Unfortunately we forgot our swimsuits so we couldn't try it out but it did look very nice. Some of the restaurants in town serve a special stew which is actually prepared by putting all the ingredients into a pot and lowering it into the ground where it cooks in the hot water and steam.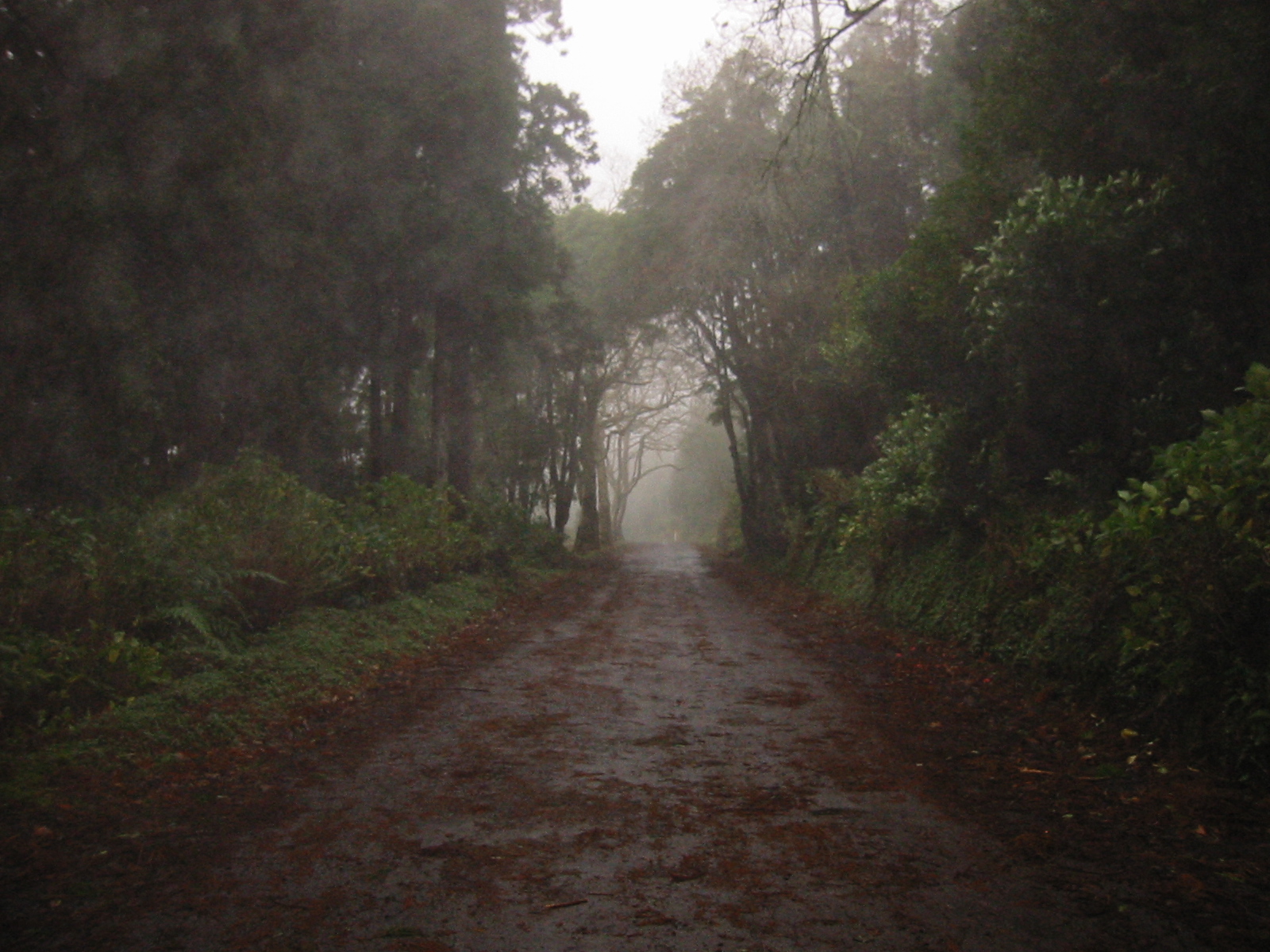 These must be ordered many hours in advance.
Sete Cidades
If you have seen any pictures from the Azores in tourist publications you have surely seen this one. It is a small village nestled between two beautiful crater lakes; one blue coloured and the other green. I'm not sure why the lakes are different colours but I assume it has something to do with the vegetation or perhaps the depth. The view from above is magnificent and I can imagine canoeing on the lakes would be very nice.
Lagoa do Fogo
This is another lovely crater lake, close to the village of Lagoa and definitely worth a trip. It is often cloudy here so we had to go a couple times before we got the full vista.
Lagoa Pools
These are a set of natural ocean pools on the seafront in the town of Lagoa. They are constantly refreshed by the sea and very pretty. There are a number of other places on San Miguel and the other islands which have similar rocky outcrops from which these natural pools are made.
Tea Factory
There are two tea factories (can't remember the names) which are on the north side of the island east of the town of Ribiera Grande and are the only tea plantations in Europe! They offer free tours at both which end in a free cup of tea and biscuits. They have a small shop where you can buy fresh tea (called "cha" in Portuguese) and we picked up several bags which we drank for months.
Island Tours off Villa Franca
There is a beautiful island off Villa Franca where you can visit during the summer months on a day trip. The island has a natural harbour and a lovely beach.
Faial
We took a flight from San Miguel to the island of Faial for one of our famous "vacation within the vacation" trips! The domestic flight was quite reasonable, around 120 euros, but due to the high winds was very much like a theme park ride. Once arrived, we rented a car and drove into the main town, Horta, which is a pretty and very colourful harbour town. Horta is the main stop for sailors cruising across the Atlantic, making this a real sailor's town. The main drinking hole is called Peter's Cafe Sport and is renowned by cruisers worldwide, less for the actual bar with its cigarette smoke blackened walls and decrepit furnishings and more for its geographical location in the middle on the Atlantic with land and the associated alcohol serving premises many days away on all sides. After Horta, we embarked on a trip around the island on the coastal road. There were many, many places along the way where we stopped for views and photos, including the striking black and white churches, the whalebone scrimshaw artist's house overlooking Horta, the waterfalls on the islands west coast and the volcano-trashed lighthouse which was absolutely mesmerizing.
Pico
Pico is a volcano island thirty minute by ferry from Faial. On a clear day one can see the magnificent volcano rising majestically into the sky all the way from Faial. This island itself basically has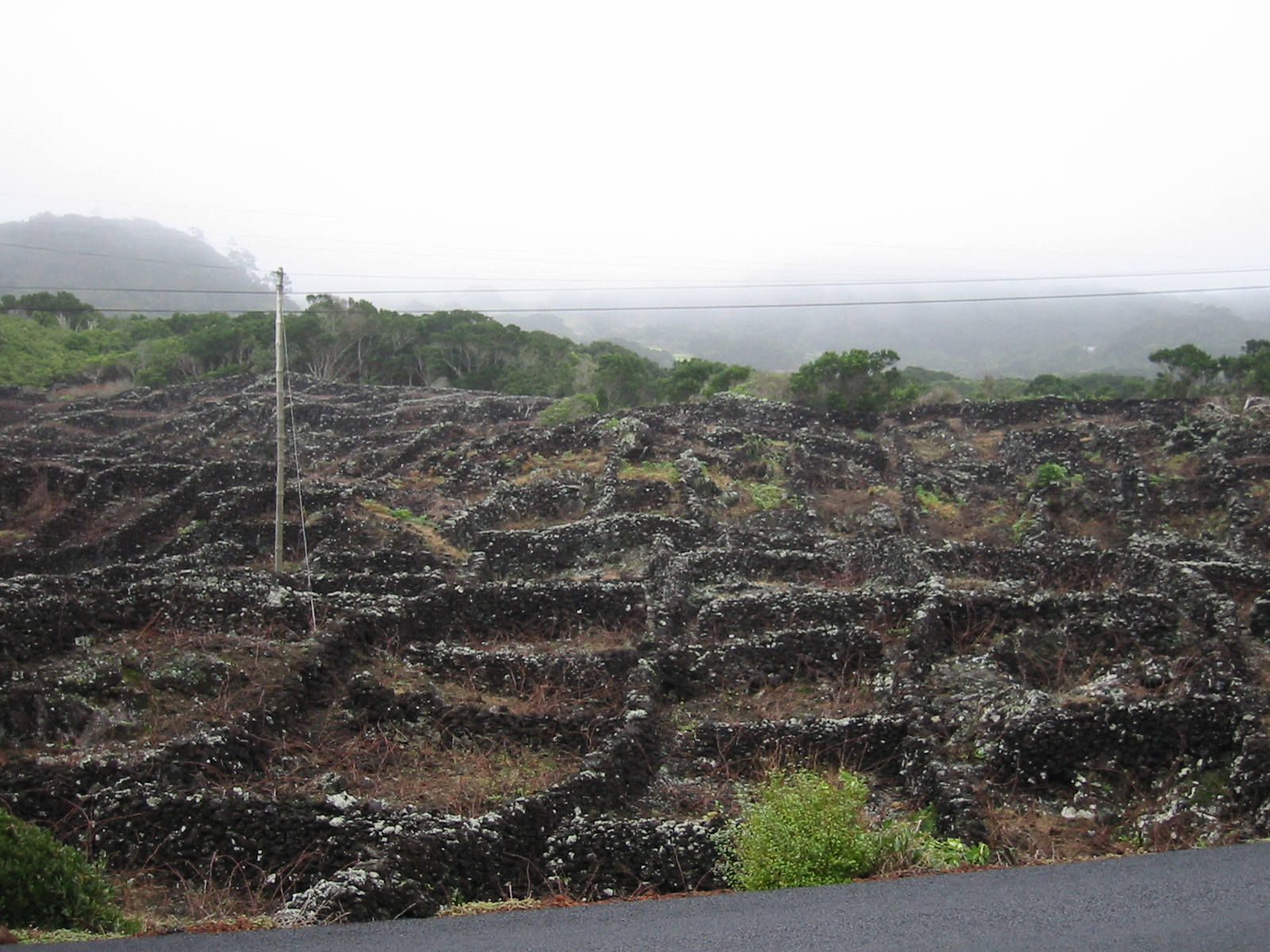 one road that follows the coast and encircles the volcano. There are a few secondary roads where you can drive most of the way to the top of the volcano, but you need a clear day for this or you won't see too much. The other amazing thing about the island is the abundance of volcano rock fences which divide up the land. Apparently, when the land was first settled it was entirely covered with rock so the settlers piled these rocks into fences to get to the soil underneath. And they actually managed to find a species of wine grape that could grow entirely along the ground in these unusual conditions. They also used the excess rock to build their houses and other buildings which results in some interesting looking farms. Pico also had a whaling factory which has since been turned into a museum and this is definitely worth a visit.